by Pastor Tom Chantry
(as told to Frank Turk)
---
Before we start today's letter, a little introduction is in order. It's a guest-written letter by one of PyroManiac's most-diligent and insightful readers – Pastor Tom Chantry. He's in fact my new favorite internet personality as he is also now a contributor to a small and under-appreciated blog called

the NEW Calvinist Gadfly

. While I had some choice words for this subject which I needed a full week to put together, I did not have a full week last week – or rather, my week was already full. When I mentioned it to Tom, he said it was a shame that he couldn't write the letter.
I agreed, and we have the result, below. Pack a Lunch.
---
Dear Pastor MacDonald,
First, allow me to greet you in the name of our common Master, the Lord Jesus.
I am writing to you as a fellow pastor - the pastor of a smaller church. While I hope that you do not consider me a lesser brother because of the smallness of my church, what I ought rather to say is that I do not consider you an unworthy brother because of the largeness of yours. I am not one of the small-church critics who holds the opinion that large churches are universally evil. Rather, I believe that if it is God's will a church like yours can do much good for the cause of the gospel.
Some mega-church pastors care little for the gospel. That sort of man would probably stop reading my letter as soon as he read that my church is small. In such a man's eyes the great gospel can only be served by great men with great vision and wisdom and great results - meaning great turn-out each Sunday.
Perhaps, though, you are one of the many other mega-church pastors who do care about the truth. Recently you have come under widespread scrutiny for your commitment to certain truths. Most can see no objection to your having a discussion - even a public discussion - with someone who rejects the traditional language of Trinitarian orthodoxy. I wonder, though, if you really agree that those who make that creedal formula the dividing line for Christian fellowship are just the sort of small-minded people who "prefer to hide in small huddles of self congratulatory agreement."
Those aggressive and provocative words are not yours; rather they come from
the Purpose Statement of the Elephant Room
. Perhaps you can see, though, how such language might lead some to question your commitment to truth. How such a combative attitude toward faithful believers happened to appear on your website is perhaps a question we can save for later. For the moment I'll say that if your great desire is to see sinners saved by the grace of the only Savior of sinners, then you and I have common ground.
One circumstance in which we differ is this: you are surrounded by a chorus of voices urging you onward to new opportunities and an even bigger ministry. Your podcast is widely downloaded. You have no lack of conference invites. You can publish at will. I do not begrudge you any of these advantages; if you serve the Lord Jesus, then they are His opportunities and He distributes them as He wills.
Instead, my challenge to you this: while it is no doubt very energizing to plow new ground, don't forget that there are souls already under your care who need the gospel. In fact, some of them may need it as much as the remotest tribes on any mission field.
You see, I write to you not only from the perspective of a small-church pastor, but also from that of a veteran of Christian education. I spent four years of the interim between my pastorates teaching in
a Christian school well-known to you
. A large-ish school run by a small-ish church provides an opportunity to observe an intriguing cross-section of evangelicalism. At our school, while there were students from many small churches around the northwest suburbs, by far the largest group was from Harvest Bible Chapel. I mainly taught older elementary students, but since I also spoke weekly in high school chapel I had ample opportunity to interact with teenagers as well.
In other words, I spent four years among kids whose religious background was in your church - a position that was both challenging and distressing. I came to realize that your church's youth, most of whom would classify themselves as "Christians," actually comprised the greatest Unreached People Group I have encountered in my years of ministry. This was a conclusion that I reached quite reluctantly, and one which I hope you will seriously consider. Many of those kids had no more idea of the basic facts of the gospel or of its implications for sinners than do the members of the remotest tribes in places American Christians still think of as "mission fields."
Now, you will no doubt say that I am being unfair; these children came from a church in which the gospel is faithfully preached. Perhaps so. Perhaps your reputation for clear proclamation of Christ's mercy to sinners is well deserved. The problem is that few of these kids had ever heard you preach, for the simple reason that they had never actually been to the adult worship service.
Don't worry, I'm not about to break out the family-integrated-worship argument. I imagine you would laugh at the very idea, and frankly I share some of the same skepticism. But I do think two questions ought to be discussed openly. First, is there not a point during a child's maturing years at which he ought to be exposed to "big church"? And second, when he isn't in the worship, doesn't it matter exactly what takes place in the youth center?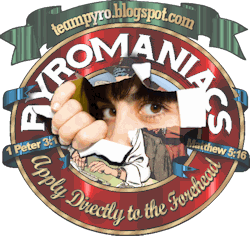 While I was struggling to come to grips with what my students did and didn't know about Jesus, I hit upon the idea of assigning everyone the task of writing a one-page description of their most recent trip to church. The first time that I read a description from one of your sheep, I wondered if he had understood that I wanted a description of Sunday church. He had written of a whipped-cream eating contest, of half an hour of songs, and of throwing pies at the youth leaders. His only mention of teaching was of "some guy" talking for ten minutes about "the music we listen to." But yes, this was Sunday church, and unfortunately it was no rare instance. Year after year, student after student gave me similar heartbreaking descriptions of "church."
I wondered what such children could know of the gospel. Another writing assignment asked, "What does 'being a Christian' mean to you?" The kids said a lot about going to youth group and having a good time, but they rarely mentioned the cross. The same boy who wrote the above account did talk about Jesus; he said that shortly after he turned ten he heard something about Jesus dying, so he asked his mom what that was all about. Sadly, after a decade of church attendance it was a new subject to him.
In fact, whenever I talked to my classes about the death and resurrection of Jesus, they reacted as though perhaps sometime they might have heard something similar. This is how I came to the conclusion above: how could one expect the members of this Unreached People Group to demonstrate any familiarity with the gospel when their religious education had consisted of food fights and infantile pranks sprinkled with the occasional virtuous platitude?
This experience sent me back to the pastorate with a sober appreciation of what it means to be accountable for souls - particularly for the young souls who are brought to my church and raised under my pastoral care. Is it not my business to be certain that they have at the very least been confronted with the realities of sin and its only cure? I realize that they have parents and Sunday School teachers, but -under Christ - I am a minister of the gospel, and I have a responsibility to them.
Don't you agree? Don't you feel the same way about the crowd of young souls currently growing from infancy to adulthood in your youth center?
Now admittedly, here is where I have the advantage on you - the advantage of the small-church pastor. It is an easy thing for me to know the children in my congregation - children whom I see and with whom I interact on a regular basis. I understand my advantages, and it is my business to make something of them. I also understand that you are at a considerable handicap. The demands on your time are far greater than the demands on mine. I wonder, though, does that change anything? You - like me - are a minister of the gospel, and you - like me - have had young souls entrusted to your care.
Now you are no more answerable to me than I am to you, but permit me to make two recommendations in the spirit of love - for Christ, for the church, and for the lost.
First, if your calling is to proclaim the gospel of grace which every sinner must hear, make certain that the lost children in your congregation hear it. I am not suggesting that you do away with your nursery, nor would I presume to tell you the exact age at which kids should start coming to worship. Wouldn't you agree, though, that at some point before adolescence a child is capable of understanding gospel preaching? Your people bring their families to your church because you are a gifted communicator and because your reputation is that you preach that Jesus Christ saves sinners. But what good does that do for the kids if they never hear you preach?
Second, since yours is the name at the top of the letterhead, take ownership of the education which goes on under your authority. Do you know with any certainty that your youth program confronts kids with the gospel? If you have never dropped in unannounced, then may I suggest that you could do more good in the classroom than in the pulpit next week? Of course I can anticipate the objection to that; you have a ministry to maintain, and the folks who pay the bills expect you to be in the pulpit on Sunday. But remember, the Good Shepherd said this: "What man of you, having a hundred sheep, if he has lost one of them, does not leave the ninety-nine in the open country, and go after the one that is lost, until he finds it?" If there is even the possibility that there are lost souls in your youth groups who equate Christianity with pie fights and pious advice, don't you think your congregation could survive the comforts of the worship center without you for one Sunday?
If you find that the experience of religion which children get in your church is little different from what they might watch on the Disney Channel, and if consequently they lack any basis to be transformed by the renewal of their minds, that by testing they may discern what is the will of God, what is good and acceptable and perfect, then perhaps there is an elephant in the room that you may have missed!
click here for more
Of course, some mega-church pastors want this sort of youth program. You would not be the first man to encourage the lowest-common-denominator approach to youth ministry because it makes the church grow, and that brings me back to my original question: are you one of the mega-church pastors who is all about the numbers, or one of those who is all about the gospel?
The Elephant Room Purpose Statement
speaks of fidelity and fruitfulness; do you understand "fruitfulness" to be something judged by the size of a congregation, or does that concept mean more? Are fidelity and fruitfulness opposing poles between which we must find "a new center," or is fruitfulness defined and determined by fidelity?
I suspect that the long-term fidelity of any church depends as much on its approach to its youth as any other human factor. The words of that Purpose Statement look like the fruit of a ministry which has failed to transmit gospel fidelity to the next generation. If our children have never been confronted with the claims of Christ, then we ought to have anticipated the arrival of pastors who can employ terms like "being humble enough" with a straight face - even while mocking other Christians for "crouching behind walls of disagreement" and making ironic claims to "advance Christ's call to unity." If there has been a lack of teaching among our youth, can we be surprised when one day they talk of "holding the essential tenets of the faith with a ferocious intensity," yet fail to realize that the Trinity is among the first of those tenets?
Every pastor ought to hope for better fruit than this. Remember, both you and I will give an account of our stewardship of souls. Perhaps you will continue to build your ministry until it eclipses that of every great preacher in history. Perhaps your next book will be acclaimed by all as a timeless best-seller. Perhaps your ministry on next spring's conference tour will draw rave reviews for its broadness of mind and heart. But if the children of your congregation are just another Unreached People Group, what exactly are you building? Do you want to be saved as if through a fire when all else - including the families in your care - are burned up like what's left over after the harvest?
I am sure that is not your wish, and I leave it to you for your good and Godly consideration.
With Genuine Brotherly Concern,
Tom Chantry
---