Plus six all-new Po-Motivators® (see below)
by Phil Johnson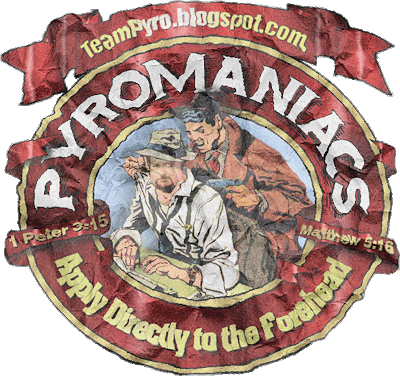 was going to write a substantive post today. Then I decided instead just to link to a smattering of things that have puzzled, amused, intrigued, or appalled me lately. Here you go, in no particular order:
More moral insanity from Great Britain: "A lap dancer, a lesbian, and a lapsed Christian with a pregnant girlfriend are among the participants on the U.K.'s newest reality show, Make Me a Christian."

Our own Frank Turk leaves some profound thoughts in another blog's combox regarding the popular notion that there's something unsavory about contending for any mere matter of biblical principle when someone's feelings are involved:


OK—I'm watching this society of christian brothers begin to populate this meta here with "Yes, more love please" affirmations, and I think that's a wholly-biblical, wholly-spiritually-industrious, wholly-useful endeavor: I think that people should think more clearly about the command of Christ to actually do unto actual others as you would have them actually do unto you.
Yes: I agree. In fact, I would take that to the root first before I took it to the blogosphere: you should do unto others in your local church and where you do business every day as you would have them do unto you. Because if that was happening, a few noisy scandal-bloggers would be seen as anomalies and not as a proliferation of the Church lady stereotype of christians. (Small "c" intended.)
The problem—and the issue here is that there is actually a problem and not merely a dysfunctional relational environment—is that the church is sick. Listen: pomos, conservatives, liberals, bloggers, pastors, unbelievers, you add your favorite category of person here—they all agree that the church is sick. The church is not healthy, especially in America.
But what's the cause of the sickness and what's the cure? Is it the rather-nebulous question of "love"? Or is it something less subjective and more actionable—and is there a resource or a proper authority which can spell out for us what the solution is?
This is really funny because I was watching a Steven Colbert clip last week about what was going on at Lambeth, and Colbert—a Catholic—was really beating down on the Anglicans because they couldn't figure out if God thought that gay men should be ordained as priests or bishops. His point, of course, was that there should be some guy they could ask who could sort it out for them.
I agree with Colbert that there ought to be "some guy"—but that guy is God Himself, and the answers lie in His Word, which, btw, is not a collection of Jack-Handiesque comforting maxims. The Bible is full of loving statements, gentle rebukes, and frankly-stark insults against those who are frankly intransigent and wrong.
Love is good. But it's not just one flavor. Expand your palate and taste and see the goodness of the Lord—no matter which flavor you think you like best right now.

Joel Griffith points me to this article, about author Joe Eszterhas, who says he tried Protestantism and loved the sermon, but felt "empty" because of the lack of liturgy.

Meanwhile, John Schoettler sends me this relevant quote from Spurgeon about the seductive dangers of elaborate liturgy and artificial worship. (Spurgeon also explains his preference for a capella corporate worship here):


There is in human nature a tendency to permit religion itself to become mechanical : priests, temples, sacraments, the performing of services, organs, choirs, all go towards the making up of a machine which may do our worship for us, and leave us all our time to think about bread and cheese and the latest fashions. As cranks, pistons, valves, and cylinders take the place of bone and muscle on board ship, so millinery, bellows and ritual take the place of hearts and spirits in the place of worship. Certain outward appliances may be well enough in their place, but they too easily become substitutes for real heart-work and spiritual devotion, and then they are mischievous to the last degree. The preacher may use notes if he needs them, but his manuscript may steal from him that which is the very essence and soul of preaching, and yet his elaborate paper and his elegant reading may conceal from him the nakedness of the land. Praise may be rendered with musical instruments, if you will ; but the danger is lest the grateful adoration should evaporate, and nothing should remain but the sweet sounds. The organ can do no more than help us in noise-making, and it is a mere idol, if we imagine that it increases the acceptance of our praises before the Lord.

Anyone who reads church history attentively can hardly help noticing parallels between some of the current soteriological controversies in the Reformed world (I'm thinking especially of the Auburn Avenue/Federal Vision mess; the New Perspective on Paul; and Norman Shepherd's highly nuanced reconstruction of the doctrine of justification by faith) and earlier controversies where some of the same issues and rhetoric were being hacky-sacked around the church chancel (and I'm thinking here about the Oxford Movement/Tractarian controversy, the Mercersburg Theology, and other movements whose leaders have seemed less than comfortable with the principle of sola fide and whose liturgy has tended to elevate the eucharist over the sermon in order of priority). So I've been reading The Parting of Friends: The Wilberforces and Henry Manning by David Newsome and thinking about the parallelisms between then and now. Then I serendipitously came across

this rare little number

whilst doing an unrelated Google search, and it reminded me that there really is nothing new under the sun. A fascinating read and an eery

deja vu

experience for those interested in these cyclical controversies.

. . . and finally, I'm sorry, but I just can't help myself: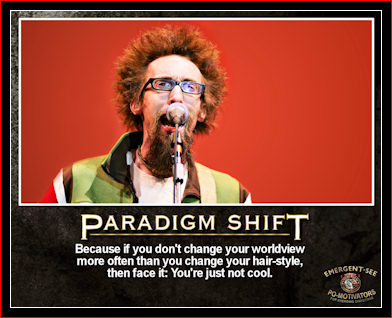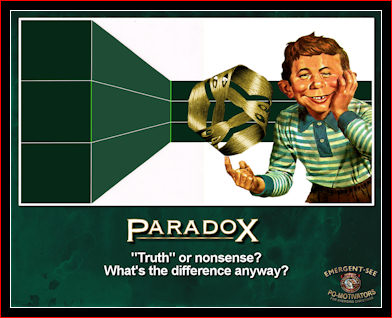 NOTE: if you're still seeing the Escher engraving on the above poster, hit reload. I redid this one, because if you're going to push the limits of fair use on a copyright question, best to use an image belonging to someone who understands the concept of parody. Besides, I like this version better anyway.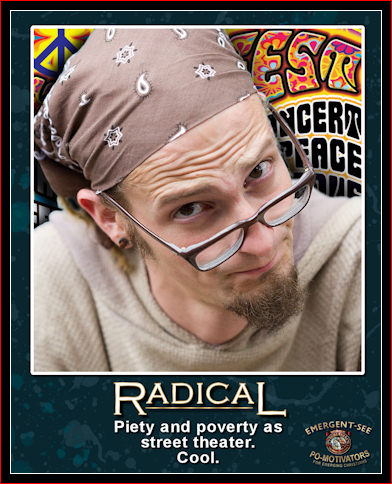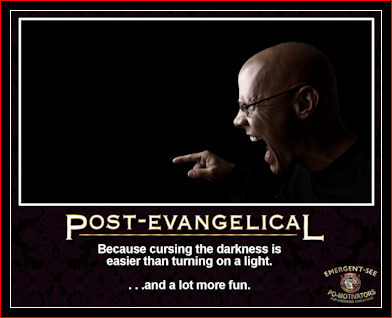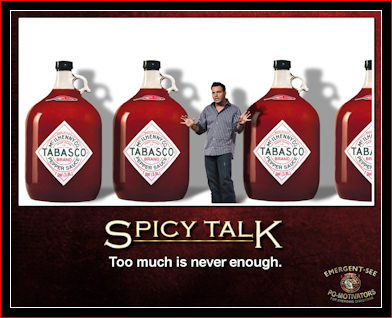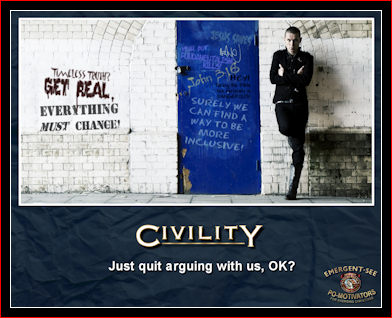 ---