by Dan Phillips
Too often, professed Christians are both contented
and
discontented about the wrong things.
God has given His church an
absolutely sufficient, living, inerrant revelation
of His person, works and will. Yet rather than focus all our prayerful energy on mastering and being mastered by all of its contents, we allow a
dangerously unbelieving and ungrateful discontentment
to
divert our attention
and
leave us open to harmful substitutes
, as well as
pastorally-disastrous schemes and mazes
.
In that case, we need to re-read the book of Numbers. We need to remind ourselves just what
raging death
God visited on those who were constantly, repeatedly, whiningly discontented with His provisions. We need to repent of our unbelief and ingratitude. We need to revise our approach to Christian living, by joyfully embracing a robust affirmation of
God's own testimony to the sufficiency of His Word
.
Then on the other hand (and, as I think on it, relatedly) we are too easily contented in our relationship with God. Let me 'splain.
All of us professed Christians, if asked "Would you like to know God better?", would answer "Yes." But what if we were asked a different question? What if we were asked if we are willing to
do what it takes to
know God better, know His word better, be better prepared to serve Him, be more immersed in worship and service, be more fruitful and productive and effective in serving Him (see the sermons on Proverbs 3:1-12
in this series
)? What if we were asked if we were willing to
do what it takes
to move ahead in those areas?
In that case, I'm certain that candor would force too many to reply "No thanks, I'm good."
I'm called to consider this by that arresting, alarming verse, Proverbs 1:32 —
For the turning away

of the gullible will slay them,
And the complacency of the stupid will destroy them. [DJP]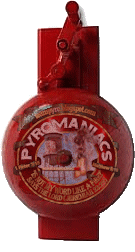 "The complacency of the stupid," the wise man zings. In context, this
complacency
would take in everything the stupid man does to quiet, dull, numb, defang, decaffeinate, and otherwise deflect God's call. He refuses, rejects, belittles, doesn't want... in short, he's
complacent
. He's good. He's A-OK, he's five-by-five.
And that's stupid, God says; and that will destroy them, God says.
Knowing people as I do (I met one once!), I imagine some will say "Well yeah, but that clearly is talking about unbelievers, lost people. Not saved people."
In response to which, rather than going John Owen on you, I'll just leave you with this question:
You really think God likes complacency better in professed believers, and thinks it's smart?
---