Your weekly Dose of Spurgeon
The

Pyro

Maniacs

devote some space each weekend to highlights from the lifetime of works from the Prince of Preachers, Charles Haddon Spurgeon. The following excerpt is from The Metropolitan Tabernacle Pulpit, volume 37, sermon number 2,230, "Loved and laved."
"He loved us and washed us."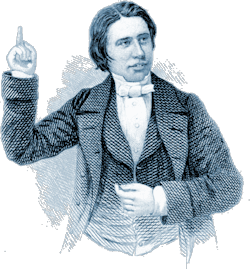 Does God take to washing black sinners white? That he should create, I understand; that he should destroy, I also understand; but that he should wash and cleanse those who have made themselves foul with sin is marvellous.
God is so full of power that, if a thing is broken, it is never worth his while to mend it. It is the poverty of our resources that compels us to put up with defiled and broken things, and make them better; but he could, with a word, or without a word, make another race of creatures and leave sinful men to die, if he would.
Yet he loved us, so that he stooped to wash us from our defilement. Oh, when you see the Christ of God kneeling down, girding himself with a towel, like a slave, and bringing forth the ewer and the basin; when you see him pouring water on his disciples' feet, then taking foot after foot with his own dear hands and washing them, you see a great sight of love!
But when he opens his own side, when he gives his hands and feet to be sacred fountains of blood, and we are cleansed through his death and agony, this is compassion like a God; this is a sight the like of which heaven and earth have never seen.
What love must he have to sinful men, that he should stoop so low as this! The Maker of Heaven and earth washing filthy hearts and sinful souls! It almost surpasses human thought; yet it is most certainly true. Glory be unto his name!
Well may we sing praises "unto him that loved us, and washed us." It is amazing mercy that Christ should ever deal with sin, except to punish it. That he should ever take it on himself, that he might remove it from us, is a thing that we shall never fully understand even in glory itself. Condescending love indeed it was that loved us, and washed us.
---