by Dan Phillips
At Parbar westward, four at the causeway, and two at Parbar.
(1 Chronicles 26:18 KJV)
Mm. Parbar. Deep stuff, eh? Oh yeah.
Back in the 70s and 80s, this was a chucklesome verse to many. Some claimed it as their life-verse. If I remember, it was the "motto" of the Christian satire magazine
Wittenburg Door
.
Why? Well, because nobody knew what "Parbar" meant. The translators of the KJV apparently didn't, so they just transliterated it. Same with the ASV, the NAS, and other versions.
So you could expect "Parbar" to come up in conversations among certain wags. After all, it was the ultimately wild-card.
Nobody
knew what it meant; so it could mean
anything.
See where I'm going with this?
Remember when
Mark Driscoll claimed the Holy Spirit was showing him pornographic footage
? Note that he just tosses out,
"This may be 'gift of discernment.'"
It may? On what exegetical grounds, pray? Mark doesn't share them. He just throws that out there, and then does what Charismatics must do: he
tells select stories
.
Now, lesser mortals such as you and I dursn't criticize this practice, because
At one point there was something called "gift of discernment" (?);
That was in the Bible (if he means 1 Cor. 12:10);
Nobody's absolutely sure what that is; so...
Maybe this is that!
You don't want to criticize something in the Bible, right?
Driscoll knows he's had the experience, it's got to be valid, we should probably call it something... so let's spin the wheel and pick one of those gifts concerning which Chrysostom, writing just a few centuries after the (hel-lo?) close of the Canon said
This whole place is very obscure: but the obscurity is produced by our ignorance of the facts referred to and by their cessation, being such as then used to occur but now no longer take place. [John Chrysostom, Homilies on First Corinthians, Homily XXIX]
Because, who knows? Could be!
But then again, really, since the whole point is that we've got this imperative (we
must
validate the Charismatic's experience and his special powers), then heck:
why not
call it the "gift of Parbar"? I mean, do you
know
it's not the gift of Parbar? Well,
do
you? Of course you don't.
So there you go!
See, that's where the modern inventors of Charismaticism/"continuationism" went wrong. Parham and his poor dupes were originally seeking the
Biblical
gift of tongues. That is, they expected to be able to speak in unlearned human languages supernaturally. And when they started babbling and gobbling, they were convinced it had to be
that
, that
Biblical
gift, that
falsifiable gift with defined contours and edges
.
So they went off to mission fields, expecting to be understood by the Chinese... but, yeah, you know how that went. Natives shrugged and, in effect, made little circular gestures by their temples. Incomprehensible babble.
So here's where the first-gen errorists went afield. They were sure their experience was valid (Charismaticism 101), so then took some large hammers and saws to the Bible, and eventually changed the interpretation of what "tongues" meant from, well, what it meant, to what they were doing. They took a well-understood gift and invented something that gave cover to their experience.
Never should have done it.
Should have just just said they got the "gift of Parbar."
See?
Same thing for all their other redefinitions. If they wanted some holy status for their errant feelings and hunches and "leadings," they should never have assaulted the well-known and well-defined Biblical phenomenon of
prophecy
, and embarrassed themselves by trying to redefine it to suit their experiences. If they were unwilling to call a hunch a hunch and take responsibility for it, just call it "the gift of Parbar."
Same with these bizarre little clairvoyant parlor-tricks, called (with
zero
exegetical support) "word of wisdom" and "word of knowledge" — they could be just subcategories of the multifaceted and glorious "gift of Parbar." Who knows? Who can
disprove
it?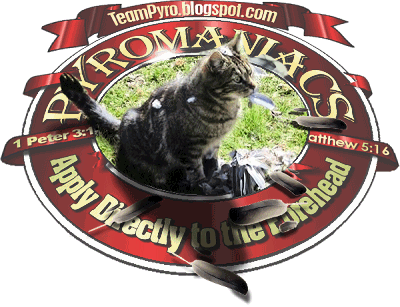 I know some of you are seething, but if you've been here any time at all you know:
we have this discussion every time we talk about Da Gifts
. Every time we're trying to talk God's Word, someone is sure to ask, "So, what about when X happens? or when Y happened in 1843? How do you explain
that
, huh?" As if this is what really should consume the Christian, because we already have so well mastered all that actually-in-the-Bible stuff.
So look, here's my modest proposal: If we aren't going to start with sound exegesis of the Bible and be content with that... well then, I've got my answer:
Got to be the gift of Parbar.
Hey. It's as Biblical as all the other stuff. Every bit as Biblical.
---