by Dan Phillips
The book of Proverbs uses a number of different words which are all translated "fool" in most English versions. The word
kesîl
[
k'SEEL
] occurs 49X in Proverbs. Its relation to cognates meaning "plump" or "fat" tempts one to translate it "fathead," but I take the translation "stupid" offered by many lexicons. It features in the pivotal verse signalling Solomon's shift from long-form to short-form proverbs:
Proverbs of Solomon.
A wise son rejoices a father,
but a stupid son1 is the grief of his mother. (Proverbs 10:1 [DJP])
________________
1Literally "a son, a stupid one."
In this verse, Solomon crafted the perfect transition from Proverbs' introductory chapters to the sentence-proverbs that dominate the rest of the book.
When I preached it
, I developed that relationship at length; here my point is a bit different.
Here's a summary of most of the uses of
kesîl
in Proverbs:
The כְּסִיל [kesîl] hates knowledge (1:22), is complacent to his own destruction (1:32), exalts dishonor (3:35), slanders (10:18), thinks it's fun or a joke to do scheming evil (10:23), proclaims (12:23) and spreads (13:16) and spouts (15:2) denseness, is repelled by the thought of turning from evil (13:19), brings his friends to harm (13:20), is reckless and heedless (14:16), pastures on folly (15:14), disdains his mother (15:20), can't even have wisdom beaten into him (17:10), clings to his denseness fiercely (17:12), brings grief to his father (17:21), doesn't focus (17:24), brings bitterness to his mother (17:25), delights not in insig
ht but in sharing his opinions (18:2), is quarrelsome (18:6-7), gets deserved beatings (19:29; 26:3), is wasteful and unproductive (21:20), doesn't recognize or value wisdom when he hears it (23:9), requires special handling (26:4-5), should not have honor (26:1, 8), makes a horrid messenger (26:6) and proverb-teller (vv. 7, 9[?]), is a destructive employee (26:10), repeats his folly (26:11), is what you are when you trust your own heart (28:26), lets loose his temper (29:11).
Let's single out just one pair of those, in both of which "Fool(s)" translates a form of
kesîl
:
Doing wrong is like a joke to a fool, but wisdom is pleasure to a man of understanding. (10:23)
A desire fulfilled is sweet to the soul, but to turn away from evil is an abomination to fools. (13:19)
The second verse uses the strong word "abomination," which means something abhorrent and appalling. This is the word Yahweh uses for how He feels about homosexuality (Lev. 18:22; 20:13), idols (Deut. 7:25-26; 12:31), and other repulsive things. It's a shocking, negative term. At the opposite end of the semantic spectrum is 10:23's "a joke," which translates a word meaning laughter, or what brings laughter. It's a pleasant, happy word. Jarring juxtaposition, eh?
But wait. It gets worse.
What both verses have in common is the
stupid
person. Where they both disconnect is right here:
what brings the stupid man pleasure is what disgusts Yahweh; what disgusts the stupid man is what pleases Yahweh.
Yahweh is pleased when sinners turn to Him from sin, and that is the very thing that repels the stupid man. He loves what God hates, and hates what God loves.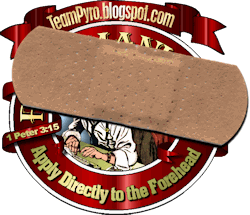 As an example, this may help us see why homosexual-agenda advocates and enablers become so enraged and incensed over certain notions. You'll have noticed that they often fly into a fury, not merely at ministries and programs that try to help those in the grips of same-sex attraction, but especially at individuals who claim to have found such freedom. Why are they not happy for them? Morally unanchored, why do they care who tries to help who do what?
Because turning away from evil is
an abomination
to the stupid.
It fairly boggles the mind, does it not?
That
degree of messed-up involves not just thoughts and conclusions and decisions, but
affections
— loves, likes, admirations. It puts him at loggerheads with God inside and out.
Good thing he's got free will though, eh? One day, he'll just decide to change! Oh, sorry; vented my inner Pelagian there. I'm better now.
But the
kesîl
isn't. Left to himself, he loves what God hates, hates what God loves — and his complacency, his refusal to be alarmed and brought to repentance, is precisely what will destroy him (Pro. 1:32, using this same word).
Apart from an act of sovereign grace
.
---