by Phil Johnson

onight is the final evening session of the Founder's Conference, and I'm looking forward to it eagerly. The speaker is Roy Hargrave, pastor of Riverbend Church in Ormond Beach, Florida. He opened the conference Tuesday afternoon with a powerful message that, for me, has been the standout moment of the conference.
If Hargrave wanted to blog, he could be a
PyroManiac.
He is passionate, plain-spoken, bold, and has an instinct for the same issues we care about.
Be advised: Get your detailed notes about tonight's message from
Timmy Brister.
I'm sure I'll be mostly engrossed in listening for myself.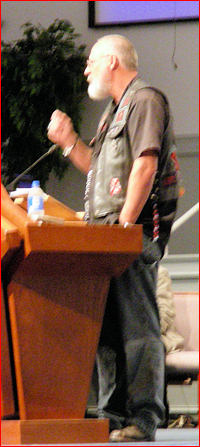 Tonight's service started off with one of my favorite of the newer hymns, "Before the Throne of God Above." Then
Rob Richey,
known as "2R," an elder and evangelist from
Bikers for Christ,
gave a testimony. He is an articulate and thoughtful missionary to the biker community—a likeable guy. And I'll say this for Bikers for Christ:
their patch
is almost as cool as the TeamPyro logo.
It's been rainy here all week, which is somewhat unusual for Tulsa this time of year. There was flooding in Stillwater today, I understand. Strangely, at this moment, Cape Coral, FL., Tom Ascol's home, is suffering a terrible drought, and a wildfire is burning close to his home. So we made that a matter of prayer.
Roy Hargrave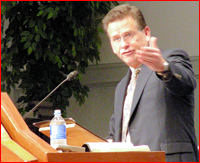 After the offering, Roy Hargrave spoke. He began with well-deserved thanks and words of appreciation for the people of Bethel Baptist Church, Pastor Bill Ascol, Tom Ascol, and others who organized the conference.
The message is titled, "Christian Faith and Conduct in a Godless Culture." The text is Titus 3:1-15.
What is concerning in so many churches today is not so much a problem with what they are saying; the bigger problem is what they are
not
saying. Another still more troubling problem is that Christians don't back up what they teach by the way they live. To preach the Word of God and then refuse to obey it is to deny it. That kind of hypocrisy undermines the authority of Scripture in the eyes of the world. If Christians who profess to believe that the Bible is the Word of God refuse to let it order their lives, the message they are sending is that we ourselves don't believe the Bible is really authoritative.
Nonetheless, most of the church today tends to castigate those who are lost and tolerate the behavior of wayward saints. We scold the world and turn unbelievers into enemies, while catering to professing Christians whose lives aren't what they should be.
That is diametrically opposed to the biblical pattern.
The church is supposed to discipline sinning saints and reach out to unbelievers. "For what have I to do with judging those also who are outside? Do you not judge those who are inside?" (1 Corinthians 5:12)
Church discipline is not merely for the sake of order in the church. There is no evangelism if there is no purity in the church of Christ. Discipline, therefore, has ramifications for our evangelism.
That's what Paul is reminding Titus.
And the practical ramifications of this are not what some people might think. When Paul says, "Remind them to be subject to rulers and authorities, to obey, to be ready for every good work" (v. 1), he's not talking about a Republican president who professes to be born again; he was talking about a ruthless tyrant.
One of the corollaries of this is our duty to love our enemies, and to pray for them (cf. 1 Timothy 2:1-4). Our failure to do this is the main reason we have not been effective in reaching our culture.
We also need to model good behavior in the midst of an evil society—"to speak evil of no one, to be peaceable, gentle, showing all humility to all men" (Titus 3:2).
Of course, we're to deal more harshly with people in the church who pursue lives of sin: "For there are many insubordinate, both idle talkers and deceivers, especially those of the circumcision, whose mouths must be stopped, who subvert whole households, teaching things which they ought not, for the sake of dishonest gain" (Titus 1:11).
But the church needs to remember that the main motive for Christ's incarnation and atonement in the first place was the love of God. It is the
goodness
of God that leads people to repentance. It is vital that we bring people face to face with the reality and awfulness of sin, but we need to remember that the threats and condemnations of the law can never give life.
Reach out to lost people. Give them the truth. Be bold about it. Don't be sheepish or apologetic about it.
What we
do
is the measure of what we really believe. The rest is just religious talk. Faith without works is dead.
Hargrave's message was terrific, with a careful verse-by-verse treatment of Titus 3, a wonderful thumbnail sketch of the OT prophet Jonah, a thoughtful analysis of why churches lose their young people, a powerful rebuke to churches who think their primary duty is lobbying for voters in political elections, and a passionate appeal for passionate ministry to the lost. I've recorded only the basic gist of the sermon. I highly recommend the entire message on CD or mp3.

---