by Dan Phillips
Having done
an introduction to the introduction to Proverbs
, last Sunday I began an actual introduction to Proverbs.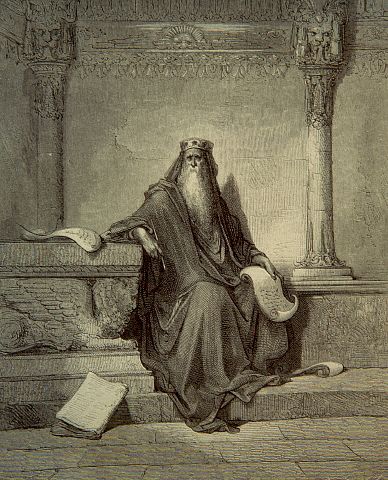 I skipped over the first Hebrew word of the book ("Proverbs-of"), to focus on "Solomon son of David king of Israel." Titled
The Pithy Penmen of Proverbs
, my focus was the central author and overall editor, King Solomon.
As I'm sure I've remarked somewhere before, I find Solomon one of the most frightening, sobering men in all of history, in the company of men like King Saul, fallen pastors, and the head of the pack, Judas Iscariot.
In Solomon's case, was there ever a man who was more advantaged and fell further — apart from Judas? In the sermon, I traced his lineage, his beginnings, his encounters with God, his accomplishments... and his disgraceful fall.
The sermon concluded with a series of (artless) proverbs based on the instruction one should receive from the life of Solomon.
In the sermon
, they're offered pretty quickly, so I reproduce them here for your reflection:
1.
Do
love God
with everything you've got
today
,
now.
2.
Do
cling to God
as if all the demons of hell are trying to pull you away.
3.
Do
learn God's word
like there's going to be a test. Because there will be.
1.
Don't
live on yesterday's devotion
a.
Yesterday's spirituality and devotional is a wonderful thing –
if
you're
building
on it
today!
b.
But if not, all it is is a towering, damning monument to our declension, a sad comment on how far we've fallen, like the religious buildings of Europe.
2.
Don't
relax your guard
until the
General
says the
war's
over.
3.
Don't
think you're home
until you're actually at Jesus' feet.
4. Don't
stop studying, learning and doing
until the Master says to put your pencil down...which will probably never happen.
To coin a phrase: you (and I) think about that. Amen
---