Your weekly dose of Spurgeon
The

Pyro

Maniacs

devote some space each weekend to highlights from the lifetime of works from the Prince of Preachers, Charles Haddon Spurgeon. The following excerpt is from The New Park Street Pulpit, sermon number 27, "The eternal name."
"The scorners have said that we should soon forget to honour Christ, and that one day no man should acknowledge him."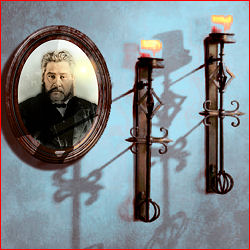 Now, we assert again, in the words of my text, "His name shall endure for ever," as to the honour of it. Yes, I will tell you how long it will endure.
As long as on this earth there is a sinner who has been reclaimed by Omnipotent grace, Christ's name shall endure; as long as there is a Mary ready to wash his feet with tears and wipe them with the hair of her head; as long as there breathes a chief of sinners who has washed himself in the fountain opened for sin and for uncleaness; as long as there exists a Christian who has put his faith in Jesus, and found him his delight, his refuge, his stay, his shield, his song, and his joy, there will be no fear that Jesus' name will cease to be heard.
We can never give up that name. We let the Unitarian take his gospel without a Godhead in it; we let him deny Jesus Christ; but as long as Christians—true Christians, live, as long as we taste that the Lord is gracious, have manifestations of his love, sights of his face, whispers of his mercy, assurances of his affection, promises of his grace, hopes of his blessing, we cannot cease to honour his name.
But if all these were gone—if
we
were to cease to sing his praise, would Jesus Christ's name be forgotten then? No; the stones would sing, the hills would be an orchestra, the mountains would skip like rams, and the little hills like lambs; for is he not their creator?
And if these lips, and the lips of all mortals were dumb at once, there are creatures enough in this wide world besides. Why, the sun would lead the chorus; the moon would play upon her silver harp, and sweetly sing to her music; stars would dance in their measured courses; the shoreless depths of ether would become the home of songs; and the void immensity would burst out into one great shout, "Thou art the glorious Son of God; great is thy majesty, and infinite thy power."
Can Christ's name be forgotten? No; it is painted on the skies; it is written on the floods; the winds whisper it; the tempests howl it; the seas chant it; the stars shine it; the beasts low it; the thunders proclaim it; earth shouts it; heaven echoes it.
But if that were gone—if this great universe should all subside in God, just as a moment's foam subsides into the wave that bears it and is lost for ever—would his name be forgotten then? No. Turn your eyes up yonder; see heaven's terra firma. "Who are these that are arrayed in white, and whence came they?" "These are they that came out of great tribulation; they have washed their robes, and made them white in the blood of the Lamb; therefore they are before the throne of God, and praise him day and night in his temple."
And if these were gone; if the last harp of the glorified had been touched with the last fingers; if the last praise of the saints had ceased; if the last hallelujah had echoed through the then deserted vaults of heaven, for they would be gloomy then; if the last immortal had been buried in his grave,—if graves there might be for immortals—would his praise cease then?
No, by heaven! no; for yonder stand the angels; they too sing his glory; to him the cherubim and seraphim do cry without ceasing, when they mention his name in that thrice holy chorus, "Holy, holy, holy, Lord God of armies." But if these were perished—if angels had been swept away, if the wing of seraph never flapped the ether; if the voice of the cherub never sung his flaming sonnet, if the living creatures ceased their everlasting chorus, if the measured symphonies of glory were extinct in silence, would his name then be lost?
Ah! no; for as God upon the throne he sits, the everlasting One, the Father, Son, and Holy Ghost. And if the universe were all annihilated, still would his name be heard, for the Father would hear it, and the Spirit would hear it, and deeply graven on immortal marble in the rocks of ages, it would stand,—Jesus the Son of God; co-equal with his Father. "His name shall endure for ever."
---