by Dan Phillips
Men, at our worst (and, some would say unkindly, at our best) can be rather cheeseheaded. We don't do it on purpose, usually; it's just the way we are. Women, at their worst, can be a pretty impatient about it.
And so you have the classic scene playing out something like this:
Poor Dullard: Wait — you're angry, aren't you?
Angry Shrew (icily): Oh? You're so perceptive. What gave me away?
PD: So... you are mad. Why? What did I do?
AS: (furious silence)
PD (growing desperate): What? I don't have any idea. I thought I was doing what you wanted. What did I do?
AS (deadly calm): Oh, I think you know.
PD (whites showing around eyes): I don't know! How could I know? I don't know! Just tell me.
AS: If you loved me, I wouldn't have to tell you.
Is God like that?
Oh, a reader might scoff,
nobody
thinks God is like that.
I would agree that nobody
says
he thinks that God is like that, but there is a whole school of thought that insinuates that God is
exactly
like that. Like that, indeed, and much, much worse.
This is the subjective-revelation school, the pinprick-individual-semi-revealed-will-of-God school. Most Charismatics hold this, and all Blackaby fans are bound to it. If you haven't, I'd urge to your read the multi-part takedown (
starting here
), where I laid out the approach and showed the disastrous pastoral implications that advocates never deal with.
On this school, you can (theoretically) be doing everything you know God wants you to do, out of deeply Biblical, Spirit-breathed faith and love — and walk right out of God's will. You can marry the wrong person, take the wrong job, turn the wrong direction, buy the wrong car, and be out of God's perfect will for your life for the rest of your life. In
my Proverbs book
I tell the tale of the woman who
told her daughter
that she'd married the wrong man — meaning she was out of God's best will, forever —
and
meaning that
her daughter should never have been born!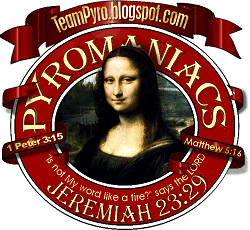 She had, to my knowledge, violated no Scripture in marrying this man. He wasn't an unbeliever, he wasn't married to someone else. He was human. He was of the opposite sex.
But
she was convinced she hadn't read the signals right. She hadn't caught the arched eyebrow, the pursed lips, the slight tilt of the head, the tense posture, the icy tone. She hadn't divined the Divine properly. And now there was Hell to pay for it for the rest of her life, a Hell into which she now had pulled her daughter.
This is the popular image of God, as Worst. Girlfriend.
Ever
.
By contrast we have the God of the Bible, who spoke to the fathers in the prophets and, in the last of these days, spoke to us in one who was His Son (Heb. 1:1-2). This God has told us
in so many words
absolutely everything we need to know in order to be saved, and to be fully-equipped to serve Him (2 Tim. 3:15; see also
this post
, and
this sermon
).
If something is important to the real, living God, the God and Father of our Lord Jesus Christ — He has told us. We've got it in writing, and it binds and informs and guides us sufficiently (1 Cor. 14:37).
Beyond that, if He wants something done, He is more than capable of doing it without subjecting us to the bondage of abusive-girlfriend treatment, by His sovereign working of all things in accord with the counsel of His will (Eph. 1:11), by which even bad events serve His purpose (Gen. 50:20; Rom. 8:28).
Brothers and sisters chained to mysticism, find out
what it really means to trust God
, and to
have a relationship with Him
. It's freeing, and wonderful.
---