by Dan Phillips
It occurred to me that many might be served if we offered
warning-signs
of (at worst) false or (at best) unreliable teachers. Here are a number of such indicators. Some are instantly obvious; others only over the passage of time (cf. 1 Tim. 5:24).
Any one of these should signal alarm. Found all together in the same person, trainwreck is assured.
He seems more energized about "gray areas" and supposed lacunae in the Bible than he is about the crystal-clear fundamentals (contrast 1 Cor. 15:1ff.).
He casts doubt on the existence of crystal-clear fundamentals, or makes much of their putatively subjective, varied nature (1 Tim. 6:3-5).
He seems to sow many seeds of doubt about Biblical teaching, while at the same time sowing no such seeds about his own (Col. 2:18; 1 Tim. 1:4).

He's always running after the Cool Kidz' position or concern of the day (Gal. 1:10).
The Gospel is, at best, an afterthought (contra 1 Cor. 1:17).
The designed effect of his presentations is that people come away thinking a lot about him, and little about the text and the God who is seen through the text (Gal. 4:17). Relatedly...
Any hopes that saints can know truth certainly for themselves (cf. 1 Cor. 15:1) are buried under assertions or implications that he knows truth for them.
He talks about things God says to him personally that He doesn't say to anyone else (Col. 2:18, Gk).
"What verse are we on?" is usually hard to answer (Isa. 8:20).
He's very excited about brand-new, bleeding-edge movements that anyone with a whiff of historical sense can see as failed diversions from the 1920s (cf. Jude 4, 17-19).
His chest-pounding rhetoric quickly collapses into squealing victimhood under the least solid criticism (1 Cor. 4:19).
He's always the hero of his personal stories (contra 2 Cor. 4:5).
He often hides behind paper-thin clichés (Col. 2:21-22).
His dependence on paper-thin clichés suggests that he keeps to a very small circle, one closely resembling an echo-chamber (2 Cor. 10:12b).
He is rightly best known for something other than his clear, forceful, passionate, focused declaration of the Gospel and Word of God (contra 2 Cor. 8:18).
He gives reason to suspect that it's more important to him to amaze, amuse and impress, to his own glory, than to reprove, rebuke and exhort by preaching God's word to God's glory (2 Tim. 4:1-5).
It would not affect much of his preaching if Christ had not been raised (contra 1 Cor. 2:2; 15:14).
Had a meteoric rise to prominence while still quite young, without much dues-paying and/or apprenticeship to a faithful man or men... and his name doesn't rhyme with "Marles Murgeon" (1 Tim. 3:6).
People who hate God and God's law really like him and his preaching (cf. Luke 6:26).
Doesn't have much time for nobodies who can't do anything for him (Mark 10:43).
The depth of his theological reading seems to go back about five years, if that (cf. Acts 17:21).
He's pretty much the issue. Not the Gospel, not the Word; not the uncomfortable edges that any faithful preacher of the Word would preach. Him (contra 2 Cor. 4:5).
He makes a big deal of how God is bigger than the Bible. Metaphysically, the point is so obvious as not to need saying; so usually when someone makes a big point of it, "bigger than the Bible" is code for "other than what the Bible says" (Deut. 4:12; Isa. 8:20). Similarly:...
He makes a big deal of how we don't worship a book. Again, the point is so obvious and undisputed as not to need saying. Also often code for "need not worship according to this book" (Leviticus 10:1ff.).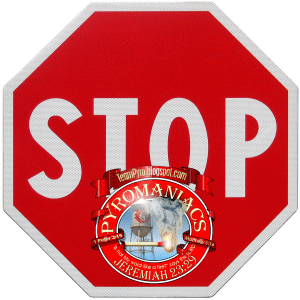 ---