by F. X. Turk
As I take a summer vacation from my permanent hiatus, I want you to think about something with me for a moment.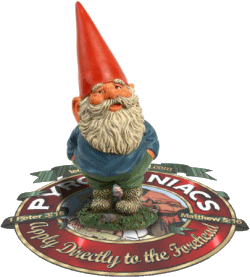 "Hypochondriasis" was first diagnosed as we understand it today in the 19th century. This debilitating condition is the result of an inaccurate perception of the condition of body or mind despite the absence of an actual medical condition. An individual suffering from hypochondriasis is known as a hypochondriac. Hypochondriacs become unduly alarmed about any physical or psychological symptoms they detect, no matter how minor the symptom may be, and are convinced that they have, or are about to be diagnosed with, a serious illness. (thx, Wikipedia)
These people cannot be convinced that they are just fine no matter how many tests you run which demonstrate they are just like everyone else. Science cannot dissuade them. About 3% of all patients visiting their primary care physician have this problem. The treatment, I am told, is the effort to help each patient find a better way to overcome the way his/her medically unexplained symptoms and illness concerns rule her/his life. Current research makes clear that this excessive worry can be helped by either appropriate medicine (targeting the anxiety) or targeted psychotherapy.
Diving deeper: the right treatment for this problem is not the one the patient would choose for himself or herself. The problem is not the patient's body at all -- unless you count the state of anxiety in this person's brain over his or her perceived illness. It would actually harm this person if we caved in to their false perception of a problem and treated them with the means they were demanding. The right treatment is to approach their anxiety over the false self-diagnosis and resolve the problem that they are not sick no matter how sick they think they are.
This diagnosis and approach is one of those things that modern medicine simply accepts and works to treat as it presents itself -- in most cases. But today there are some versions of this where the demands of the person with a perfectly healthy body but
the feeling that something dreadful has happened
have trumped the traditional medical diagnosis. And in those cases, it doesn't matter how extreme the treatment the patient demands is: it must be rendered. Drugs must be administered. Every prosthesis must be added; every offending piece of flesh removed. Organs with no functions must be implanted. Organs in perfect health must be -ectomied. And if any of the treatments are refused, the person demanding treatment is somehow being violated, kept from a true form of self which would finally fulfill them.
That's pretty weird, right?
Now imagine a world where those people obtain the right to dictate to the rest of society what families look like and how children will be raised.
---