by Phil Johnson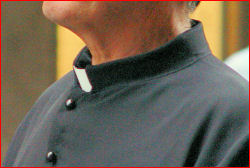 At the moment, John MacArthur is scheduled to be part of a panel on
"Larry King Live"
tonight, discussing the issues of celibacy and marriage.
As I understand it, the topic is prompted by one of those ubiquitous and misnamed "Reality" shows slated to premier on some network or another. In the coming semi-documentary series, titled
"God or the Girl,"
I'm told, four candidates for the Catholic priesthood are faced with various enticements to see if they will choose marriage or the obligatory vow of celibacy.
Larry King wants to talk about the issue, and he'll be asking John MacArthur and other panelists for their thoughts on celibacy, the priesthood, reality TV, and whatever.
King's "religion panels" are always an adventure in Kafkaesque absurdity. He likes to plant MacArthur between Deepak Chopra and Father Michael Manning. Despite Manning's smarmy, grinning, "I'm OK/you're OK" approach to every difficult issue, and Deepak's professed desire to be harmonious with everything in the imaginary pantheist universe he inhabits, both of them regularly find it impossible to stifle their visible and audible outpourings of contempt for MacArthur.
I don't actually know who's actually going to be on the panel tonight, but
if I were a betting man...
Well, anyway—meanwhile, Bob Schieffer is doing
something about the Emerging Church
on the CBS evening news. Good thing I've got Tivo.
Incidentally, King's "scheduled" topics are always subject to change or cancellation at the last minute. If that happens, this post will automatically self-destruct and the secretary will disavow any knowledge of its existence.

---