posted by Phil Johnson
Your weekly dose of Spurgeon
The
Pyro
Maniacs
devote Monday space to highlights from The Spurgeon Archive. Once again this week, we bring you Spurgeon early, so you can savor his wisdom over the weekend. (And don't forget to change your clocks tonight, if you're in one of those flexible time zones.)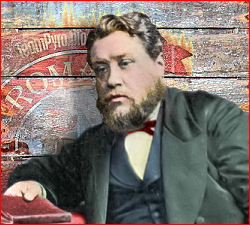 Here a beleaguered Spurgeon replies to critics who dismissed him with mockery and wrote off his prophetic words of caution in
the "Downgrade" controversy
as the befuddled ravings of a bitter old man. This comment was the leading entry in
the "Notes" section
of the February 1890 issue of
The Sword and the Trowel
:
"Words of Love and Soberness"
A CERTAIN newspaper paragraph very kindly attempts to comfort "Mr. Spurgeon at his worst stage of depression concerning the doubts of the day," by the assurance that religion can never pass away.

We can assure our friend that we never thought it could. No fear as to the ultimate victory of the truth of God ever disturbs our mind. We are sure that the doctrines of the gospel will outlive all the dotings of "modern thought."

The trouble is that, for the moment, error is having its own way in certain parts of the visible church, where better things once ruled; and, worse still, that good men will not see the evil, or, seeing it, wink at it, and imagine that it will do no very great deal of harm. It is ours to give warning of a danger which to us is manifest and alarming; and if the warning makes us the butt of ridicule, we must bear it.

Our protest is, no doubt, regarded by some as a piece of bigotry, and by others, as the dream of a nervous mind. Neither conjecture is correct; but we speak the words of love and soberness.

An American, who enquired of certain leaders in the "Down-Grade" what they thought of Spurgeon's conduct, was informed that sickness and age had weakened his intellect. This has been their contemptuous method all along; but facts are not to be set aside by such remarks.

Be the protester what he may, he declares his protest to be solemnly needful, and he begs for attention to it. It may be the old truth is in the minority, and that those who uphold it are thought to be troublers in Israel, and causers of false alarm: but we are none the less confident that, when good men return to their better selves, they will see differently. Bitterly will some regret that they allowed matters to drift, and drift, till they had wrought incalculable mischief.

We have spoken in saddest earnest. It is no pleasure to us to stand apart, and refuse complicity with what we judge to be a great crime. Our witness is on high. The Lord will judge between us and the enemies of the faith in his own good time!

Time has certainly vindicated Spurgeon. Everything he warned about in the Downgrade episode ultimately did come to pass. The mainstream of the evangelical movement in this postmodern generation is now following the very same disastrous path taken by the modernists of Spurgeon's generation. We have again a multitude of careless souls whose only response to warnings about the drift is scorn, abuse, and dismissal. The blogosphere abounds with examples of this.
But history is a harsh teacher. She always severely punishes those who refuse to learn her lessons.

---