Your weekly dose of Spurgeon
posted by Phil Johnson
The PyroManiacs devote some space each weekend to highlights from The Spurgeon Archive. The following excerpt is from "The Hold Fast," A sermon originally preached 9 June 1878 at the Met Tab, London.

here is and always has been a great desire for novelty. We are all the subjects of it: we all like something fresh.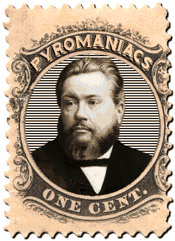 But there are some who are
sick
with the changeable disease; you see them zealots for a creed today, but all of a sudden you find them deeply immersed in the opposite teaching. Ah, now they have found out something very wonderful: just as the idiot who saw the rainbow, and believed that there was a jewel at the foot of it, ran for miles to seize a glittering sapphire and grasped a piece of glass bottle; so do they forever pursue and never attain.
We have a few of these gentlemen in most of our churches, but you will find them nowhere long. Another inventor starts a new system, and away they go, pining always to be the first disciples of each new prophet. May God save us from the Athenian spirit, which for ever hungers for something new.

---