A
double
dose of Spurgeon
posted by Phil Johnson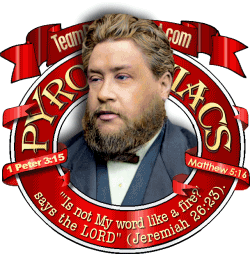 The PyroManiacs devote space at the beginning of each week to highlights from The Spurgeon Archive.

Sunday morning, a good friend reminded me of this excerpt from "Strengthening Words from the Savior's Lips," a sermon on 2 Corinthians 12:9, preached April 2, 1876, at the Metropolitan Tabernacle in London. It occurred to me that a double dose of Spurgeon would be a good way to begin this week:
"My grace is sufficient for thee: for my strength is made perfect in weakness."

have often read in Scripture of the holy laughter of Abraham, when he fell upon his face and laughed; but I do not know that I ever experienced that laughter till a few evenings ago, When this text came home to me with such sacred power as literally to cause me to laugh.
I had been looking it through, looking at its original meaning, and trying to fathom it, till at last I got hold of it this way: "
My
grace," says Jesus, "is sufficient for
thee
, "and it looked almost as if it were meant to ridicule my unbelief: for surely the grace of such a one as my Lord Jesus is indeed sufficient for so insignificant a being as I am.
It seemed to me as if some tiny fish, being very thirsty, was troubled with fear of drinking the river dry, and Father Thames said to him, "Poor little fish, my stream is sufficient for thee." I should think it is, and inconceivably more.
My Lord seems to say to me, "Poor little creature that thou art, remember what grace there is in me, and believe that it is all thine. Surely it is sufficient for thee."
I replied, "Ah, my Lord, it is indeed."
Put one mouse down in all the granaries of Egypt when they were fullest after seven years of plenty, and imagine that one mouse complaining that it might die of famine. "Cheer up," says Pharaoh, "poor mouse, my granaries are sufficient for thee."
Imagine a man standing on a mountain, and saying, "I breathe so many cubic feet of air in a year; I am afraid that I shall ultimately inhale all the oxygen which surrounds the globe." Surely the earth on which the man would stand might reply, "My atmosphere is sufficient for thee." I should think it; let him fill his lungs as full as ever he can, he will never breathe all the oxygen, nor will the fish drink up all the river, nor the mouse eat up all the stores in the granaries of Egypt.
Does it not make unbelief seem altogether ridiculous, so that you laugh it out of the house, and say, "Never come this way any more, for with a mediatorial fullness to go to, with such a Redeemer to rest in, how dare I for a moment think that my wants cannot be supplied."
Our great Lord feeds all the fish of the sea, and the birds of the air, and the cattle on the hills, and guides the stars, and upholds all things by the power of his hand, how then can we be straitened for supplies, or be destitute of help? If our needs were a thousand times larger than they are they would not approach the vastness of his power to provide.
The Father hath committed all things into his hand. Doubt him no more. Listen, and let him speak to thee: "
My
grace is sufficient for
thee
. What if thou hast little grace, yet I have much: it is my grace thou hast to look to, not thine own, and my grace will surely be sufficient for thee."
John Bunyan has the following passage, which exactly expresses what I myself have experienced. He says that he was full of sadness and terror, but suddenly these words broke in upon him with great power, and three times together the words sounded in his ears, "My grace is sufficient for thee; my grace is sufficient for thee; my grace is sufficient for thee." And "Oh! Bethought," says he, "that every word was a mighty word unto me; as
'My,'
and
'grace,'
and
'sufficient,'
and
'for thee';
they were then, and sometimes are still, far bigger than others be." He who knows, like the bee, how to suck honey from flowers, may well linger over each one of these words and drink in unutterable content.

---