by Dan Phillips
I'm going to tag off of Phil's excellent post, and basically develop one point he raised.
Chan's Biggest Mistake. Pastor Chan did make one colossal goof, in this video. It wasn't where he parked, or losing his sandals; it wasn't even the "God is crazy about you," or his depiction of the ardor of God's pursuit of sinners.
No, it was the title.
Chan should never have titled the video, "A Systematic and Full Presentation of Every Dimension of Gospel Truth." What was he thinking? That was a huge mistake, a real mess-up. The whole controversy is all Chan's fault. It's because he chose such a bad title.

No, when he titled it thus, Chan created the expectation that he would set forth every salient Biblical truth of the Gospel, with precise citation of proof-texts, and orderly development. He was himself, by his own choice, committing himself to a balanced presentation of every gem in the Gospel's crown, without overplaying or underplaying any facet.
This video wasn't anything of the sort. It was the worst sort of false advertisement. No, this video was conversational in style. It was the sort of talk any… well, any commoner might have with his neighbor. It was what might happen when any garden-variety Christian simply took (or made) a conversational opening, and talked about Jesus.
Even though it did touch on a lot (God's holiness, God's law, man's sin, God's judgment, Christ's death for sinners, salvation by faith alone through grace alone in Christ alone, the call of discipleship, etc.) — it was not what Chan said it would be. It was not systematic. It was not full, it was not formal, it did not present every dimension of Gospel truth.
No, he should have given it a totally different title. Something brief, something pointed; something no reasonable person could have misunderstood. The whole point of the talk wasn't a lecture (or a sermon) of systematic theology. It's as if Chan left that to be done by men who can do it better than he can.
No, this was clearly designed simply to catch a person where he was, sit him down, and get him thinking Gospelward, Christward. It wasn't everything it could have been. It was a starter, an opener. The title should have reflected that. Then there wouldn't have been any controversy.


It's like Chan said at the very end of the video, "Stop, and think!"
Say… are you thinking what I'm thinking? What a great title that would have been! None of this foofaraw would have happened, if he'd simply titled the video…
"Just stop and think."
Since I've recently been made painfully aware of our readers' differing humor-receptors, I'll note: the preceding made a point by way of satirical parody.
Listen: many of our readers are pastors and/or teachers, or otherwise folks who regard themselves as well-taught and discerning. Some of them very rightly so.
But not all of our readers are in this state. In any given day, we may get 20-80 comments — but we have somewhere in the range of 1000-3000 visits. Clearly, most of the people who read this blog do not comment.
I imagine that a lot of these folks look at a D. A. Carson, a James White, an Os Guinness, a Ravi Zacharias, doing what they do, and they think, "Wow. I am so glad he is doing that — because I never could do that. He's so smart, so sharp, so well-read, so on-his-toes, so articulate. I'd just collapse into burbling, blithering goo."
But these same folks might have watched Pastor Chan's easygoing, friendly, passionate but relatively low-key talk about Christ, and they might have thought, "Gee, I can't do what those Big Guys do. But maybe, just maybe, I could do that."
And then picture these same people reading the shredding, the scornful, blistering shellacking, that some commenters and bloggers have dealt out to Chan, and (to a lesser degree) to anyone who has even a moderately kind word for his video.
What impact would you estimate, honestly? Positive for the spread of the Gospel? Or negative?
I think only two answers are possible: the honest, and the in-denial.
These folks I'm thinking of would certainly never dare to speak in the hearing of Chan's harsher critics. No way they'd want to share his fate.
But worse, to the extent that they take the criticism seriously, next time they have an opportunity, they'll think, "Okay, this is just a conversation. I don't really have time to lay the foundation of the Creator/creature distinction, the immutability and aseity of God, His ineffable holiness, man's original creation in innocence and subsequent fall into sin, sovereign election, the plan of redemp… no. I'd just better say nothing, if I can't say everything, and say it perfectly."
Careful readers will note that I haven't yet defended everything Chan did in the video. Nor will I.
But I do defend it against his critics. Chan wanted his audience just to stop and think — and he gave them good reason to do so.
What's more, he modeled one way of preaching Christ in an un-churchy setting.
I have had no argument with those who commented along these lines: "I liked this and this; I wish he hadn't done this and this."
But we all know it went way beyond that.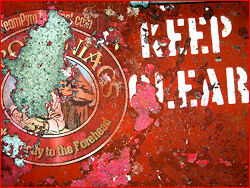 We say we want to equip everyone, we want everyone to be able to give an answer for the hope that is in him, to take the gospel into every walk of life. We do not want to be of the spirit of the Galatian errorists, who "want to shut you out, that you may make much of them" (4:17).
I just don't see how the harshness, this hyper-criticality, forwards our shared, professed goals. It's less the spirit of Paul or Peter than of Nick Burns, Your Company's Computer Guy.

This is (probably) my last post on the issue.
---