by Phil Johnson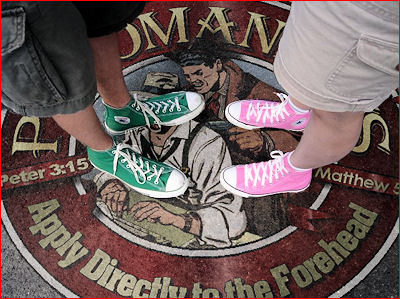 ll week the blogposts here have been lighter-than usual fare. And I'm OK with that. Especially this week. I did not need a high-maintenance brouhaha in the comment-threads this week. I had several loose ends at the office to tie up, including getting the final revisions for
A Tale of Two Sons
inserted into the manuscript and sent back to the publisher, and a stack of other things that needed doing.
The weekend finds me in Springfield, IL, where I'm speaking at a weekend conference at
Southern View Chapel,
pastored by one of my very favorite writers, Gary Gilley. I also spent the morning with my longtime friend (and the world's foremost expert on the history of hyper-Calvinism), Curt Daniel. So today was a great day, but I didn't get to blog, and Friday is unofficially supposed to be my day.
So let me partially atone for that omission with a post that touches on several more or less trivial things I wouldn't otherwise bother to blog about: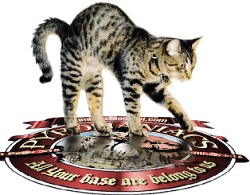 Letitia is an occasional commenter here at PyroManiacs. She usually takes the opposing view against our critiques of Emerging shenanigans, and she attends The Journey, a church in St. Louis that's part of the Acts 29 Network. But she's always friendly and polite, and a welcome participant in our combox. She e-mailed to inform me that her church's lead pastor, Darrin Patrick, will be delivering the Fall Lecture Series for the Francis A. Schaeffer Institute at Covenant Seminary in St. Louis tomorrow. And he'll be making use of the Po-Motivator® posters. I don't imagine that could possibly mean anything good for us. I wish I could be there. I'm only an hour away. But I have this prior commitment.

Facebook. Yeah, I got on Facebook to try to manage personal messages from blogreaders. Our spam filters are aggressive, and since I asked for feedback about the blogroll, I didn't want to have those messages siphoned off as spam before I saw them. So I have systematically added everyone who has asked to be my Facebook friend, whether I know you or not. (Actually, I declined one or two people whose names I recognized because in the past they have deliberately tried to be thorns in the flesh.) But I think I have dealt with every reasonable friend request and added everyone to the blogroll who met the conditions. However, I didn't notice until I'd OKed about 45 friend requests that it's possible to attach a comment to the friend request, so there may have been some blogroll info I missed. So if you requested to be on the blogroll and are qualified to be there, but I somehow haven't added you yet, message me again on Facebook, and I'll try to get you this time. Please don't send intricate theological questions or requests for detailed feedback to my Facebook page. I don't have time to use the Facebook page like that. Look at it as a personal supplement to the blog. Write graffiti on my wall, poke me, post interesting (and tasteful) pictures, videos, or whatever. I'll read whatever's there, but I just can't reply to most of it. So don't think me rude if you post the funniest joke of your life and I ignore it. Just know that I prolly thought it was pretty funny. But I'm not going to write about it.

Osteen. Everything I would say about the guy has already been said—except for one: I'm amazed that so little has been said about Osteen's comment near the middle of the interview, when the representative of this humanistic network news program summarized Osteen's Christless message in these very words: "To become a better you, you must be positive towards yourself, develop better relationships, embrace the place where you are. Not one mention of God in that. Not one mention of Jesus Christ in that. . . " and Osteen acknowledged that description, then replied: "That's just my message. There is scripture in there that backs it all up. But I feel like, Byron, I'm called to help people . . . how do we walk out the Christian life? How do we live it? And these are principles that can help you. I mean, there's a lot better people qualified to say, 'Here's a book that going to explain the scriptures to you.' I don't think that's my gifting." Isn't that an admission from his own lips that he doesn't fit the basic biblical qualifications to be a pastor in the first place?