Your weekly dose of Spurgeon
posted by Phil Johnson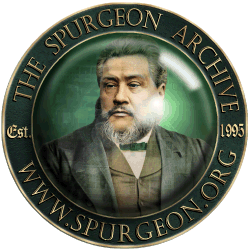 The PyroManiacs devote some space each weekend to highlights from The Spurgeon Archive. The Following excerpt is from "The Warrant of Faith," a sermon preached Sunday morning, 20 September 1863 at the Metropolitan Tabernacle, London.

, when will all professors, and especially all professed ministers of Christ, learn the difference between the law and the gospel? Most of them make a mingle-mangle, and serve out deadly potions to the people, often containing but one ounce of gospel to a pound of law, whereas, but even a grain of law is enough to spoil the whole thing.
It must be gospel, and gospel only. "If it be of grace, it is not of works, otherwise grace is no more grace; and if it be of works, then it is not of grace, otherwise work is no more work."

---