by Phil Johnson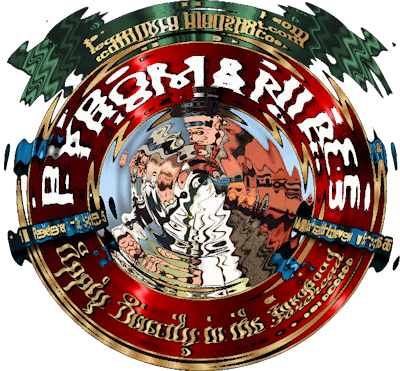 t was the summer of 1997. I was slated to go on one of those week-long ministry-sponsored cruises along the Inside Passage in Alaska with Darlene—a full week of Bible teaching and heavenly scenery. A floating Bible conference in the north Pacific. We were very excited about it.
One major problem: I had a stack of work on my desk I could not in good conscience leave behind. It was mostly correspondence from "Grace to You" listeners—people seeking counsel and biblical help. Some of them were asking for advice regarding fairly urgent issues; some were asking tough Bible questions out of curiosity. But I needed to answer them all, soon. Prior to the cruise, I had set all my correspondence aside for a few weeks in order to meet a deadline with a book project, and I desperately needed to get caught up.
So (carefully forgetting to tell Darlene I was planning to work during her "vacation") I smuggled this 5-inch-thick pile of papers into a green fabric Eddie Bauer briefcase and took it with me as carry-on baggage.
The cruise was leaving from Seward, Alaska. We were to fly from Los Angeles to Anchorage, then drive from there to Resurrection Bay to get on the ship. We had a layover in Seattle on the way to Anchorage, and while in the airport there, I left that green briefcase in a chair while I walked over to the drinking fountain. That's when Darlene first consciously noticed the bag, and she went and stood by it to keep an eye on it. I knew I was caught.
I took an extra-long drink from the fountain, and when I returned, Darlene said, "What's in that briefcase? You should keep a closer eye on it. You don't want to lose it."
I said, "On the contrary. That's a bag of correspondence I'm going to have to work on during the cruise. Frankly, the best thing that could happen would be if it fell in the ocean. I'd have a great excuse for not answering all those letters."
Darlene was very patient, as always, and she just rolled her eyes at me. Not a word of complaint when she discovered I had dragged that bag of work along. No wonder I love her so much.
Anyway, to make a long story short, when we boarded our ship the next day, some stewards took several passengers' luggage and loaded it on a rolling cart to push it up the gangplank. Almost as an afterthought, I put that briefcase on top of the stack of suitcases, thinking it best to let the professionals get it on the ship.
Less than 20 minutes after we boarded, they started paging me on the ship's loudspeaker. That is something they never do on cruise ships unless it's a very serious emergency. They asked me to come to the front desk to speak to the captain.
So I went immediately, thinking something must be terribly wrong. It occurred to me that they might have received word that someone back home might have been in an accident, or had a heart attack, or something like that. I prayed for mercy and grace as I hurried to the main deck. The feeling got more ominous the closer I got to the ship's lobby. When the attendants working the front desk saw me coming, I heard one whisper to the others,
"That's him!"
—and they all scurried into the back room, out of sight.
So now I
knew
something was seriously wrong. A grim-looking man dressed in an officer's uniform led me into a complex of offices, stopped, and just before opening a door, he looked at me and said, "Mr. Johnson, I'm afraid I have some bad news."
After a disturbingly long pause, he opened the door and said: "Your briefcase fell in the water."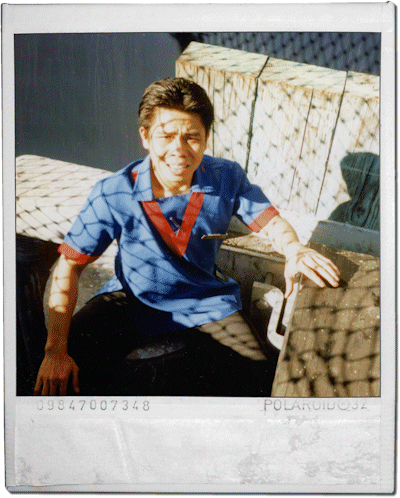 Inside that office several of the ship's crew had spread dripping-wet papers from my briefcase across every surface. People were on their hands and knees frantically trying to pat my stuff dry with towels. They looked up in unison when I entered the room. I could see panic in every set of eyes.
I broke out laughing. I said, "I told my wife I hoped that bag would fall in the ocean. You should have let it sink."
The panic in those eyes turned to pity. I think they all thought I was insane. The ship's purser, still grim, said, "Sir, I'm afraid everything in that bag is thoroughly soaked. It's very serious."
So I assured him it was
not
serious and tried to explain why this all struck me as hilariously funny. I also reassured the purser that I didn't need any kind of compensation or complimentary liquor for the week, or whatever. And I wasn't going to sue or demand free passage on cruises for the rest of my life.
I finally managed to convince them I really wasn't upset or crazy, and they breathed a collective sigh of relief that was almost palpable.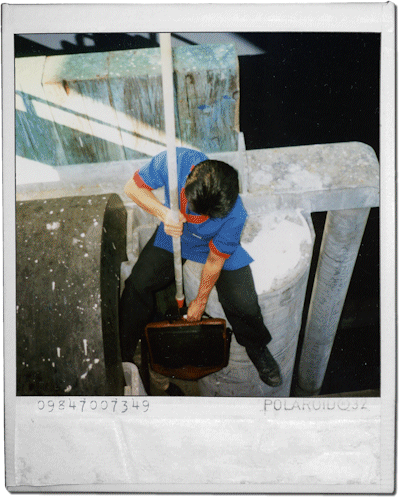 There was one woman in the room dressed in civilian clothes. She followed me out of the room and said, "Mr. Johnson, may I have a word with you?"
She said, "My name is Jeannette Seale. I'm on staff at the Seward Seaman's Mission, an evangelical mission to crew members on cruise ships. I was there when your bag fell in the water. I saw something fall; I heard the splash; and I heard crew members frantically shouting,
No! No!"
I thought a baby had fallen overboard or something.
"Two men crawled down the ship's ladder, literally risking their lives to retrieve your briefcase. They allowed me to come on the ship, because I knew the crew member who dropped the bag, and he was utterly distraught. He is a Muslim." (The ship's crew was from Indonesia.) "And he was saying, 'Oh God! Oh, God!' and I said, 'Amir, Allah is not going to help you now. We need to pray to Jesus. And I prayed aloud that whoever owned this bag would not be seriously angry. Because if you were angry or demanded compensation, it would probably cost him his job.
"Then," she said, "when we opened your bag, I could tell immediately from the contents that you were a Christian in full-time ministry. And then I began to pray for
you,
because I have seen too many Christians in situations like this behave worse than the world. And I thought if you lost your temper it would damage your testimony, and mine, and all the Christians on the ship.
"So I was profoundly relieved when you reacted the way you did, and I wanted to tell you thanks."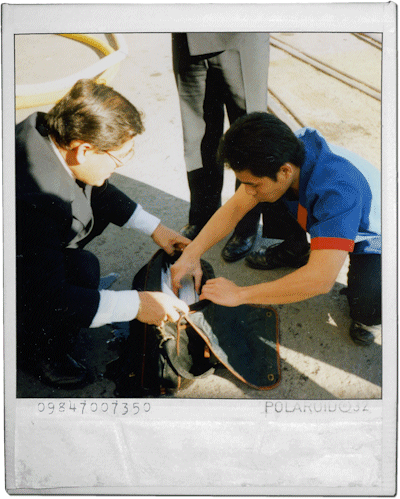 Now I'll be the first to admit that I'm no hero in circumstances like these. I
have
lost my temper and shamefully damaged my testimony in other, more trivial circumstances. Ask Darlene. I'm much too prone to mutter really unkind things about other drivers on the freeway. And she
always
admonishes me to try to speak in a kinder tone with customer-service reps on the phone. If you are a long-time blog-reader who has seen my responses to persistently-critical blog-comments, you know that sharp-tonguedness is one of my besetting sins. I admit it to my utter shame.
But this was different, because I immediately saw the hand of Providence in the whole incident. I had virtually prayed aloud that my bag would get dropped overboard. I had said to the bag, "Be thou removed, and be thou cast into the sea." It seemed clear to me that God had answered in a dramatic way. When the bag fell into Resurrection Bay less than 24 hours after my flippant comment to Darlene, I knew instantly that it was God Himself who gave it a push. (A crew member told me that in 20 years of working with that cruise line, he had never heard of a passenger's bag falling into the ocean.)
Fortunately Eddie Bauer bags are sturdy and well-sewn. Though by no means watertight, the bag floated just long enough for the crew to retrieve it before it sank. Their risky rescue operation was above and beyond the call of duty.
Subsequent events proved that the Lord had a good purpose for dropping my bag in the sea. There was a group of Indonesian Christians on the crew who always visited the Seward Seaman's Mission when their ship was in port, and when they heard what had happened, they invited me to come and preach at their worship service on the ship on Monday night. They work long hours every Sunday and Monday, and then at 11:00 Monday night, they have just one opportunity per week to hold a worship service. About 25 of them would meet together each week in the middle of the night in a partitioned section of the ship's large dining room. And they gave me and Darlene the rare privilege of worshiping with them.
Their worship and fellowship lasted well into the early morning hours—not because my sermon was long, but because they kept singing and praying and enjoying one another's fellowship until we all simply couldn't stay awake any longer. That late-night worship service was the highlight of the cruise for me. Indeed, it was one of the highlights of my life, like a little foretaste of heaven.
I have thought about this a lot in the ensuing years: All the trials we go through would be a whole lot easier to endure if we had more trust in the workings of Providence. If we would just bear in mind that God is fully in control of
everything
that happens to us—both "good" and "bad"—we would be far less frustrated, and far more confident that He is in charge, working all things (including the "bad" and merely inconvenient things) together for ultimate
good.
By the way, the papers in that bag dried just fine. I answered every letter. Though wrinkled and covered with a layer of crystallized salt, they were all still readable. And each time I picked up the next letter and felt the salty texture, it made me smile. So even the work I had to do that week was a special, memorable joy.

---