by Phil Johnson
"Grace be with all them that love our Lord Jesus Christ in sincerity" (Ephesians 6:24).

'm in Ukraine for the remainder of the week, with a fairly grueling teaching schedule. So this is nothing more than one of those "This Is Where I am Right Now" posts that
Frank Turk so despises.
And here's a scene from last week's seminar on the life and ministry of C. H. Spurgeon: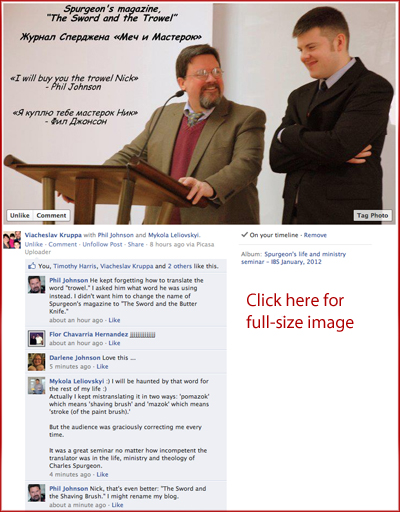 Oh, and there's this:

D.A. Carson has responded to Mark Driscoll's attack on evangelicals in the UK.

I'm surprised Carson didn't mention Rico Tice in his short-list of young English preachers who answer Driscoll's challenge and debunk his caricature of UK evangelicals:


See especially how Tice punctuates his comment at 3:00.

A couple of years ago, I heard Tice preach a superb, solidly biblical message on hell at St. Helen's Bishopsgate in London. He's articulate, courageous, and (as one-time captain of Bristol University's Rugby team) surely more virile than anyone who thinks manhood is best exemplified by being a spectator at cage fighting events.

Anyway, I have to say I'm also kind of surprised Carson said anything at all. In the words of a friend of mine, here's the shorthand history of The Gospel Coalition's efforts to corral Driscoll's motormouth:

· Driscoll credits (?) God with playing porn in his head
[ crickets ]
· Driscoll accuses folks of child molesting...though says he could be wrong
[ crickets ]
· Driscoll writes another sex manual
[ crickets ]
· Driscoll validates a false-gospel preaching modalist
[ crickets ]
· Driscoll says Brit pastors are weenies
NOW YOU WAIT JUST A MINUTE, YOUNG MAN!!

---