A week's worth of blogging packed into one convenient post
by Phil Johnson
The Pecadillo Report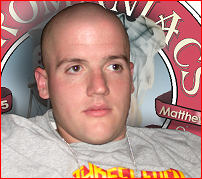 The esteemed
Pecadillo
has completed his training at the Police Academy. He received his shield in a very simple ceremony while we were in Italy a couple of weeks ago. I
hated
missing that, but his formal graduation ceremony is coming up in three weeks. I
don't
intend to miss that.
Anyway, he started doing actual police work today, helping provide security for the mayor's press conference in downtown Los Angeles. He's now authorized to carry a loaded gun pretty much all the time. Fair warning. He'll actually be working on the streets rather than sitting in class at the academy from now on.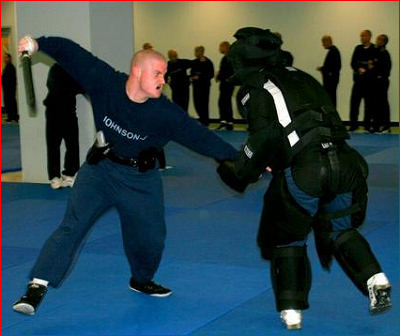 Training at the academy is grueling. Recruits who double-fail any test are automatically expelled from the Academy. Some drop out of every new group simply because the training is so stressful. For Pecadillo (who hates mornings), the hardest part was having to get up at 2:45 AM most days in order to get to the Academy in time for the early-morning start.
Of course his mom and I are proud of him.
Jeff Williams Update
This evening, Jeff Williams will make the first of two spacewalks during his 6-month stint in the Space Station. NASA has posted
some PowerPoint slides
that show what the 5.75-hour spacewalk is designed to accomplish. Both Jeff and his mission commander, Russian Pavel Vinogradav, will be outside the Space Station at the same time. Pray for them today when you think of it.
I'm assuming Jeff will be taking lots of pictures. He's apparently going for the record number of photos taken by one astronaut on a single mission—having taken nearly 15,000 photos already.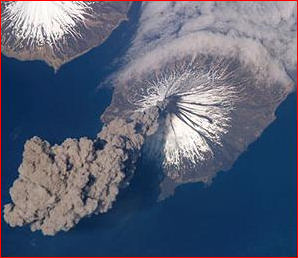 One of his photos shows a spectacular volcanic eruption in the Aleutian Islands. On Jeff's earlier mission, one of the things he did was study volcanoes, but this photo is a rare treasure. I believe this is the first volcanic eruption ever spotted from space before it was seen on the ground. Click on the photo to go to NASA, where you can download a fantastic hi-res copy.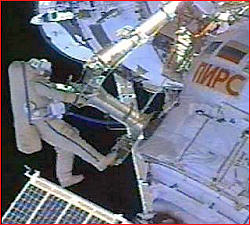 If you want watch the spacewalk, tune into
NASA TV
starting at 5:30 PM Eastern time. And remember to pray for the safety of the spacewalk.
Can you even imagine what it must be like to float freely and weightlessly in space with the whole world filling your field of vision? Wow.
Whether Jeff plans to stick his
PyroManiac
decal on the outside of the Space Station or not, he hasn't said. (Actually, Jeff, if you read this, just send me a good hi-res photo, and I'll Photoshop the sticker on.)
Odds 'N' Ends
For the record:
The Cubs' season is over. I know. Everyone can stop asking me about it.

I've been listening to the T4G sessions on my iPod. They've been summarized and thoroughly dissected everywhere, so I'm just going to say that I enjoyed them all thoroughly, and it made me doubly sorry that I missed the conference. I'm glad they made the panel discussions available. I recommend them all highly, without reservation. (And you know how rare it is for me to give anything an unqualified recommendation.)

Speaking of which, our old friend NT Wright ("The Bish") came to Canada to drink beer and talk theology. (Always knew he was a BHT fellow at heart.) Read a glowing review of the bishop's Tavern-Talk here. Wright desperately needs to enter the contest to win the Pyro-T. That mauve shirt with the clerical collar isn't working for him.

Bonus: Here's a pretty good summary of why we're uneasy with the Bish's position on justification by faith, and why we remain unmoved by the rhetorical tactics he and his disciples use to defend it (ht: CraigS).

I had to redo one of the Biblezine parodies (see here, here, and here), because the image I used turned out not to be in the public domain. The person pictured in the original version of "The New Testament for Goth Girls" turned out to be a professional model who has had some rather unsavory gigs, and who once appeared on the cover of something called "Rule Satannia." She saw the parody and e-mailed me to say she wasn't happy to have her photo used on a Bible. So I immediately removed it. Then I redid it with a picture that has a reliable pedigree and which I have express permission to use. I actually like the revision better than the original:


The designer Bibles actually being published these days work well as parodies of themselves anyway, such as this one: Immerse—A Water-Resistant New Testament. That's no joke. I think it's doing well among Baptists.

I also adapted several old PyroManiacs graphics to make 50 blogheaders which are supposed to cycle at random. The randomize function doesn't always seem to work well, but we'll get it working. In the meantime, feel free to comment on your favorites (or complain about your least favorites).

Happy 25th birthday to my second son, Jedidiah.
Update: Heads up for the Pyros—Sometime reader One Salient Oversight (famous dilettante analyst of the US political scene and my favorite Aussie critic of all things American) isn't happy with the direction of the blog. He says: "Ever since Phil Johnson invited others to blog for him, I've been less than happy with the direction of the Pyromaniacs blog. I don't know, maybe it's just too Baptist for me to feel accepted. Being Reformed, they're friends, but being Baptist and American, they're occasionally grating."

"Occasionally"? Our batting average is dropping, guys. Let's work a little harder at rubbing the Aussies the wrong way.

Anyway, I want to send OSO some love and "acceptance" with this gift: "Dubya, dubya, dubya dotcon." (ht: Nathan Casebolt).
PPS: Look who has surfaced in the drunk tank: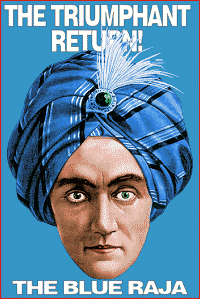 The only real surprise about this is that it took so long.
Oh, and by the way...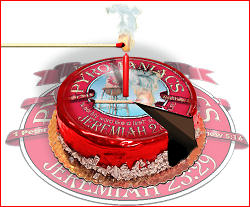 Today's the anniversary of my entry into the blogosphere. That first post remains my most-commented-on post of all time, though a post in April by Dan Phillips nearly doubled the record that post set.
Now back to work.

---