by Phil Johnson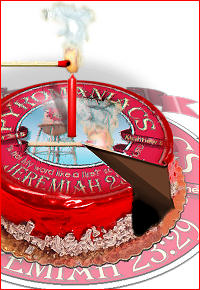 During a lull in
the space walk
(which is spectacular and fascinating—but every now and then the Space Station travels through a region where we lose the TV signal), I was reminiscing through the past year's blogposts.
I decided to list my top ten most memorable events. Here they are, in descending order (because I don't know how to make .html's numbered-lists count down in reverse:
Top Ten Unforgettable Episodes in Year One of Pyromania:
There's other good stuff I've forgotten, I'm sure. Sometimes I'll come across an old post while searching for something else and get caught up reading an old comment-thread. It's a great way to waste an hour.
Thanks to TeamPyro members; the homeschool moms; my mindless, high-fiving comment-cult; the nattering nabobs of negativism who post semi-regularly; the Blue Raja; and Adrian Warnock for helping make the blog what it is today. I'm interested in readers' thoughts about the blog so far. What do you remember, appreciate, or hate the most about the first year of PyroMania?
Talk amongst yourselves. Leave comments.

---