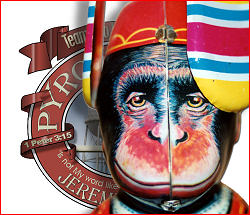 Over at the Pulpit Live blog, I've been posting
a serialized version of the transcript from my Shepherds' Conference seminar on the Emerging Church Conversation. It occurred to me that this one brief point would make a pretty good stand-alone blogpost:
Some actually believe the "emerging church movement" is
the polar opposite of "modernism."
So if you criticize the movement at all, you will automatically be accused of blithely and unthinkingly buying into the errors of "modern" thinking. A few loud voices in the Emerging conversation will always chant that mantra—as if they have been pre-programed to respond instantly and reflexively to every criticism by labeling the critic a "modernist."
(Specifically, they like to accuse their critics of parroting a brand of philosophical foundationalism that owes more to René Descartes than it owes to the Scriptures. Lots of naive people have been drawn into the movement by sophisticated-sounding philosophical arguments like those.)
That claim is based on the assumption that postmodernism itself represents a
correction
of the philosophical errors of modernism, rather than
just a further step in a wrong direction
.
How any Christian can uncritically adopt that view of carnal, worldly, humanistic philosophy is an utter mystery to me. It ought to be obvious to people in the church that postmodernism poses at least as much a threat to the truth and the clarity of the gospel as every other humanistic philosophy that has preceded it in the long parade of human foolishness that has brought us to the postmodern moment in which we are living.
Postmodernism is just the latest, and possibly the
worst
, in a relentless procession of bad ideas that
ought
to have conditioned the church to despise and distrust the folly of human wisdom (which, by the way, is what Scripture
commands
us to do).

PS: Fair warning:
Pecadillo's coming back.
---