Your weekly dose of Spurgeon
posted by Phil Johnson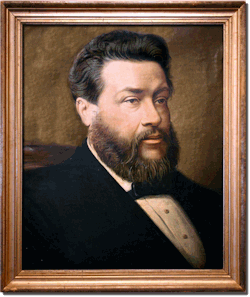 The
PyroManiacs
devote some space each weekend to highlights from
The Spurgeon Archive.
The following excerpt is from "Tender words of terrible apprehension!," a sermon preached at Exeter Hall on Sunday morning, 4 November 1860.

he wrath of God and the judgment of the day of the Lord cannot be a trifling matter. How emphatically are we told in Scripture, that it is "a fearful thing to fall into the hands of the living God." Upon such a subject we cannot afford to trifle.
Besides, the mystery of Calvary indicates to us that sin must deserve at God's hand a terrible penalty. Did Jesus suffer so bitterly to save men, and will not the unsaved endure bitterness indeed? Must the eternal and holy Son of God, upon whom sin was only an imputed thing—must he bleed and die, and offer up his life, with his soul exceedingly heavy even unto death—and is the world to come a thing about which men can afford to sport or idly dream?

---