by Phil Johnson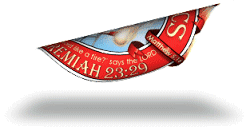 y friend Col. Jeff Williams will soon be on his way home from the International Space Station (ISS).
Jeff and Commander Pavel Vinogradov turned over command of the ISS to the new crew in a ceremony Wednesday. Thursday afternoon they will climb in their Soyuz capsule and close the capsule at 1:45 CDT (Houston time). They will undock from ISS about three hours later. If all goes well, they will land in a high desert area known as
"the steppes"
in Kazakhstan at 8:14 PM CDT Thursday night.
Returning with them will be American
businesswoman,
blogger,
and
space tourist
Anousheh Ansari,
who arrived at the ISS several days ago with the new crew in a Soyuz capsule. In an interview a few days ago, Ansari said the blastoff and ascent into orbit was very difficult and she experienced severe motion sickness. I'm told the trip down is ten times worse, so please pray for the whole crew.
Jeff's wife, Anna-Marie, is on her way to Kazakhstan as I write this. Please pray for her as well. We'll try to keep
PyroManiacs
readers informed of any important news as Expedition 13 draws to a close.

ncidentally, last week I posted this digital photo snapped by Jeff: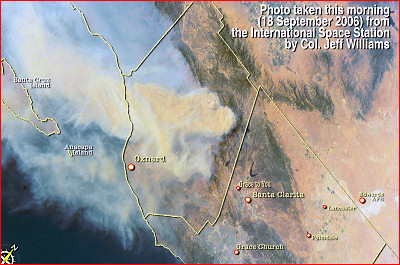 That's the so-called
"Day Fire,"
which began on Labor Day. It is still raging. Wednesday afternoon one of my co-workers at Grace to You was evacuated from his home, with the fire 4 miles away and closing in. From here in Santa Clarita, the whole world smells like a big campfire.

---