by Dan Phillips
I had a really wonderful weekend in the Sierra with my two oldest boys. There was only one real problem, for me: not enough sleep.
Thank God, I'm usually a very sound sleeper. But not last Thursday night (before our trip), nor Friday, Saturday, nor Sunday nights (during our trip). Not even back home in my own bed, Monday night.
I went to bed early (about 8:30), and just lay there. My huge Maine Coon cat, Hagrid, visited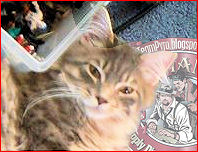 me, and purred nicely. But I still didn't get to sleep until 11-ish -- which just doesn't work when you have to get up around 4, and have had a fun but very active weekend.
So one thing I did was that I thanked God for all the blessings of the weekend. I thanked Him for my boys Matthew and Josiah, I thanked Him for our safety, for the gorgeous weather, for the brilliant starry skies, for the crisp clear streams, for our hike, our health, the car running safely; for keeping the rest of our family safe as we were gone and giving them a fun, profitable weekend together, and on and on.
But I felt nothing as I did it. In fact, if I had to identify any emotion, I felt irritated at still being awake in spite of being exhausted. I was annoyed. I felt concern about my lack of sleep, and the long day that lay before me. I felt puzzled as to why God had withheld sleep from me.
I didn't
feel
great wellings of the
emotions
of joy, gratitude, love and all those other wonderful, appropriate
feelings
. I wish I had, I'd not have said "no" to them -- but there you have it. They just weren't there. But (by God's grace) I said "thank You" anyway. Should I not have?
As I drove to work and reflected on that prayer, I realized that it was absolutely heartfelt, sincere, appropriate, and truthful. I was grateful for every blessing, fully credited God for every blessing, and had thanked Him without pretence, with a true heart. I meant every word.
But did the prayer, the worship, not "count," because I didn't have
any
of those wonderful emotions we're supposed to have? Was it not real worship, because it wasn't emotional worship?
What do you do if you don't
feel
anything?
This is a crucial point where some of the emphases of Adrian Warnock and John Piper just lose me. Whenever I say that I think emotion in the Christian life can be a fine thing, my brother Adrian gets all giddy and surprised, and seems to think I'm ready to start babbling incoherently, dancing, and turning expectantly to the blank pages at the back of my Bible. (Hey Adrian -- this "teasing" street had better run two ways!)
But what if there is no emotion at the moment? What then? What do you do?
Here's where Piper will point to the many passages about joy and rejoicing, assert that they're feelings, and as much as say that they are absolutely essential. The Charismatic (I leave Adrian specifically, not wanting to speak for him) will agree. And so what this mindset produces is that you chase the
feeling
, you chase the
emotion
, you do whatever you have to do to get that
emotion
back -- because if it's not there, what you're doing isn't real. It doesn't "count."
In fact, I've known people who simply stop and refuse to budge until they get the emotions back. They don't "feel" like going to church. Therefore going wouldn't be real worship. Therefore they don't go. They don't "feel" like showing love (or respect) to their wives (or husbands). So it wouldn't be a spiritual action. So they don't do it. They don't "feel" like reading their Bibles, and it's a "dry" experience. So they don't.
Or they sing "Breathe" or some chorus ten or twenty times, or get slapped on the forehead, or babble, or do the hokey-pokey, or whatever it might take to roil up those flighty emotions. They chase the emotion, the experience, so they can get going again spiritually.
I call it "making a god of your glands." And I call it tempting God. And I call it unbelief.
You see, I envision another category besides hollow, rote, ritualistic going-through-the-motions on the one hand, and surfing in absolute thralldom to waves of emotion, on the other. There's the category of
attitude
, of
mindset
, of
frame of mind
. There's
living from conviction.
It may overlap the realm of the emotional, it may cut straight across that realm. It isn't chained to it. It survives it, it goes on --
you
go on -- when emotions ebb. And when they ebb, you don't seek
them
, you seek
God
.
It's the sort of mindset that can say "When I am afraid, I put my trust in you" (Psalm 56:3). The emotion of fear, overruled and transcended by the mindset of faith, of trust. It can say, "Though he slay me, I will hope in him" (Job 13:15a). It can be "as sorrowful, yet always rejoicing" (2 Corinthians 6:10a). It is the aspect in which you can respond to commands to rejoice in the Lord always (Philippians 4:4), and to give thanks always (Ephesians 5:20). It goes beyond that idiotic "be happy" sentimentality that amounts to pouring vinegar on soda (Proverbs 25:20).
I'll be absolutely blunt and candid. There have been stretches of my Christian life -- and one long one, in particular -- where, had I followed my emotions, I would have followed them right out of Christianity. Had I not been taught and convinced from Scripture
not
to make
de facto
gods out of my feelings,
not
to walk by sight,
not
to make gods of my glands, I would have been slipped into outright unbelief.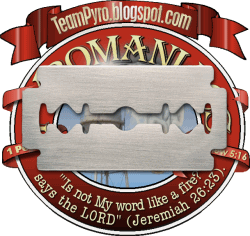 Why didn't I? The grace of God, of course, above and beyond. And His grace visited me in this paradoxical manner: when I
stopped
believing my feelings, when I
stopped
mistaking emotion for reality, when I
returned
to a deeper and more hearty belief in Scripture and its truths, and in the God who speaks exclusively by it,
then
my emotions started coming back into line.
I've never seen this area of truth expressed better than in the eighth of C. S. Lewis'
Screwtape Letters
. The trainer-demon Wormwood is cautioning his trainee not to gloat over his victim's current emotional trough, as if the battle were won. And he says this:
One must face the fact that all the talk about [the Enemy's] love for men, and His service being perfect freedom, is not (as one would gladly believe) mere propaganda, but an appalling truth. He really does want to fill the universe with a lot of loathsome little replicas of Himself — creatures whose life, on its miniature scale, will be qualitatively like his own, not because He has absorbed them but because their wills freely conform to his. ... He cannot "tempt" to virtue as we do to vice. He wants them to learn to walk and must therefore take away His hand; and if only the will to walk is there He is pleased even with their stumbles. Do not be deceived, Wormwood.

Our cause is never more in danger

than when a human,

no longer desiring

, but still intending, to do the Enemy's will, looks round upon a universe from which every trace of Him seems to have vanished, and asks why he has been forsaken, and

still obeys

. [Couldn't find my copy quickly enough, but thankfully found this quoted here; bolding added.]
This obedience of which I speak is the hard work caused by faith (1 Thesssalonians 1:3), the endurance that the Spirit produces through faith in the Word of God (Romans 15:4), and which comes
before
full possession of the reward (Hebrews 10:36).
I'll make bold to say this: Satan is not particularly worried by Christians who live for their sentimentalities, who constantly take their emotional pulse and read it as a pagan would chicken livers and tea leaves, who pursue happy feelings as a child chases a butterfly across a meadow. I think, in fact, that he finds them delightfully amusing.
But Christians who are
convinced
that God
must
be true, though all men (and all emotions) are liars (cf. Romans 3:4), and who actually
walks
by that faith (2 Corinthians 5:7)?
I think they scare the Hell into him.
---