by Phil Johnson

'll occasionally notice a particularly nice comment in the combox of an old thread here at
PyroManiacs
, or somewhere in the bowels of my former blog, and I'll think to myself,
Hey, that would have been a pretty decent post in its own right. Too bad it was buried in some ridiculous thread somewhere.
So I'm going to start resurrecting some of those dead-and-buried comments from time to time. It'll save me time blogging, and it could prove fun. In fact, let's start with an amusing one from my original blog. This comment's nearly two years old, but just as timely as ever: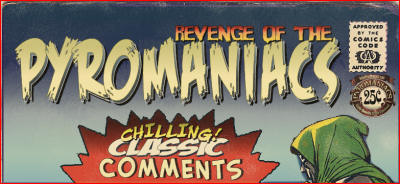 Hey!

By now, you should know better than to use humor on my blog. There are people watching on the periphery of this place who can quite easily get seriously injured if you're the least bit wry, mischievous, sarcastic, ironic, sardonic, or (heaven forbid) derisive.

Let me try to draw a timely parallel for you:

Intellectually, PyroManiac[s] is what you might call "a low-lying community." (I'd like to deny that, but let's be completely honest.) Posting a sarcastic remark or a caricature of any kind is the psychological equivalent to breaching the levy that holds the waters of post-modernism at bay.

I BEG you: don't do it again.

--Phil Johnson


PS for Dan and Frank: these are even more bumpable than my typical posts.
---