by Phil Johnson
From time to time we pull classic comments up out of an old thread's combox. What follows is one of those.

ere's part of a discussion I had with a quasi-regular commenter who asked some questions about my stance against blending ministry with politics. I've edited it slightly to correct a couple of misspellings, to keep my interlocutor anonymous, to abbreviate some redundancies, to stress a point or two, and to add the quotation that I initially referred to and couldn't produce off the top of my head: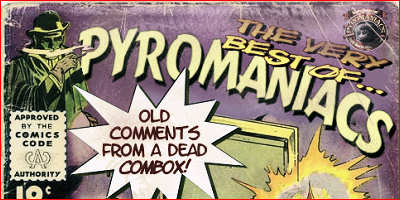 Here are my two top reasons for believing the church (n.b.: not necessarily individual Christians, but the church) should keep her hands off the machinery of secular politics:
There's no positive example of political lobbying or organizing from either Jesus or the apostles.

Every movement in the entire history of the church that has regarded political activism as a legitimate facet of gospel ministry has allowed political ideology to eclipse the gospel. That's true from Constantine to Cromwell to the Liberation theologians.
Note: I haven't suggested that the church should "be silent" about social (or even governmental) evils; merely that we have a more vital way to remedy those evils than by lobbying for legislation.

Also: It's not that I oppose legislation that would eliminate certain expressions of the evil that rules men's hearts. If our legislators outlawed abortion, homosexuality, bestiality, gambling, drunken theologizing, and other similarly gross evils, I would celebrate. If a statute promoting righteousness or outlawing unrighteousness is on the ballot, I'll vote for it. But our collective calling as a church is to announce the remedy for the evil itself. Lets not get sidetracked in the electoral process. Let the dead bury the dead. That's what I'm saying.

R____: "Part of what makes it hard to figure out what's appropriate for the church to be involved in is the fact that policy making was so far from participatory in the NT era. There was no lobbying for Jesus and the apostles to be involved in!"

Perhaps, but so what? Jesus is rightful Lord of all. If straightening out earthly political institutions had been any part of His work, why not mount a revolution? That's what the Zealots were trying to do. That's what the disciples originally expected Jesus to do. That's what politically-zealous Christians under non-democratic governments have often tried to do. It's something Jesus had every right to do, because He alone has a legitimate claim to the title "Lord of all."

It's significant that Jesus didn't mount a revolution. And (the beliefs of some of my postmill friends notwithstanding) He didn't command the church to commandeer the machinery of earthly politics on His behalf, either.

It is a fact of history that every time the church has dabbled in politics—including in the very best cases, such as Calvin's Geneva—the experiments have ultimately failed. Usually in disastrous ways.

Will Durant had an insightful quote about the impossibility of harnessing human governments to help accomplish the true Christian mission. You'll find it where he deals with Cromwell's failure. But I remember reading it and thinking he captured my thoughts exactly. I'll try to locate that quote and perhaps include it in a future blogpost.

[Found it. Durant wrote:
In public [Cromwell] maintained an unostentatious dignity; privately he indulged in amusements and jesting, even in practical jokes and occasional buffoonery. He loved music, and played the organ well. His religious piety was apparently sincere, but he took the name of the Lord (not in vain) so often in support for his purposes that many accused him of hypocrisy. Probably there was some hypocrisy in his public piety, little in the private piety that all who knew him attested. His letters and speeches are half sermons; and there is no question that he assumed too readily that God was his right hand. His private morals were impeccable, his public morals were no better than those of other rulers; he used deception or force when he thought them necessary to his major purposes. No one has yet reconciled Christianity with government. Will and Ariel Durant, The Age of Louis XIV (New York: Simon & Schuster, 1963), 192.]
But Jesus said it best of all: "You know that the rulers of the Gentiles lord it over them, and those who are great exercise authority over them. Yet it shall not be so among you. . ." (Matthew 20:25-26). See the context for even more insight into what Jesus meant.

---